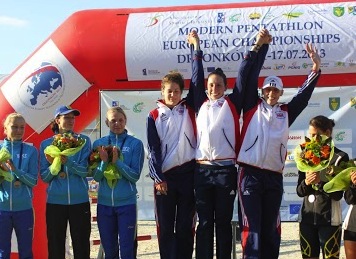 Great Britain secured their third medal of the 2013 Modern Pentathlon European Championships as Kate French, Samantha Murray and Mhairi Spence won the women's team gold in Poland today (Monday).
And Freyja Prentice just missed out on an individual medal, coming home in fourth place in Drzonkow in her first major competition since recovering from a hamstring injury.
Samantha Murray, the London 2012 Olympic silver medallist finished seventh in the individual competition, with Kate French achieving her highest senior finish in 10th and reigning world champion Mhairi Spence coming 12th.
The team gold was the second gold medal of the championships for Murray and French, who were both members of the GB relay trio that won team relay gold on the opening day of the event.
The quartet are all Univeristy of Bath graduates and train at the Pentathlon GB High Performance Centre at the University of Bath.
Jan Bartu, Pentathlon GB Performance Director, said: "They dominated the team competition today, everything went for them. It was a really well deserved gold medal and a very positive experience for them.
"An individual medal didn't happen today, but the competition was really stiff. It was a very successful day and a good stepping stone for the world championships," he added.
European Championship results
Women's individual
Gold: Zsofia Foldhazi (HUN) – 5452 points
Silver: Ganna Buriak (UKR) – 5416 points
Bronze: Anastasiia Spas (UKR) – 5384 points
4th: Freyja Prentice (GBR) – 5360 points
7th: Samantha Murray (GBR) – 5280 points
10th: Kate French (GBR) – 5244 points
12th: Mhairi Spence (GBR) – 5216 points
Women's team
Gold: Great Britain (Kate French, Samantha Murray & Mhairi Spence) – 15740 points
Silver: Ukraine (Ganna Buriak, Viktoriya Tereshchuk & Iryna Khokholova) – 15600 points
Bronze: Germany (Annika Schleu, Lena Schoneborn & Ronya Doring) – 15396 points
British medals at the championships
Gold
Women's team relay – Katy Burke, Kate French & Samantha Murray
Women's team – Kate French, Samantha Murray & Mhairi Spence
Bronze
Men's team relay – Jamie Cooke, Sam Curry & Joe Evans