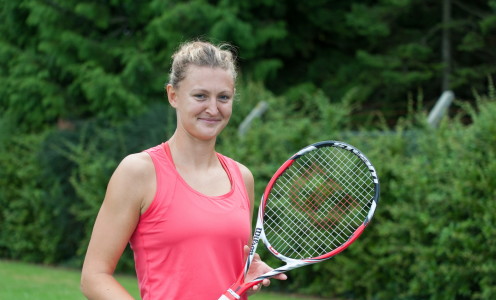 Team Bath MCTA Academy player Sam Murray has achieved a career high world ranking of 189, making her the first Team Bath player to achieve a place in the world's top-200.
Murray has climbed almost 100 places in the rankings this season – she ended 2012 with a world ranking of 283.
Back to back finals appearances at the Granby and Winnipeg ITF tournaments in Canada last month saw her progress to the top-200. And the 25-year-old thinks there's more to come as she prepares to jet off to the USA to play in the qualifiers for the US Open.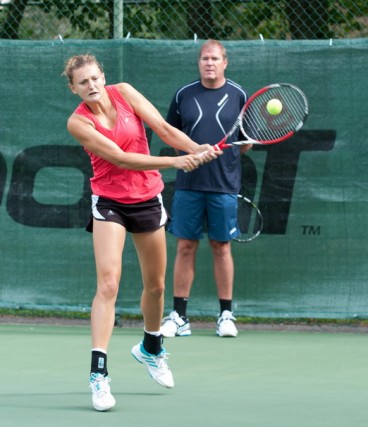 "I got inside the top-250 for the first time in May and in the last few weeks I've made back to back finals, so I've made a pretty big jump," she said
"My goal was to get into the top-150 this year and I'm getting close at the moment. I think I can make it into the top-50, but I don't know how long that will take," she added.
Although Murray had a wild card to play at Wimbledon this year – when she went in the first round at the hands of Italy's Camila Giorgi, then ranked 93 in the world, the US Open will be her first Grand Slam qualifying tournament.
"I've just had my best three weeks of tennis ever, so I'm really excited about it," she said. "My world ranking is high enough to get me into some WTA (Women's Tennis Association) events now, so I'm going to try to get into a few of them and play against some better players next."
Murray transferred to train at the University of Bath in September 2010 after graduating from Northwestern University in Illinois. "It's a really good place and it's worked well for me," she said.
Murray is now the fifth highest British player in the women's world rankings behind Laura Robson (32nd), Heather Watson (79th), Johanna Konta (115th) and Tara Moore (185th).
Barry Scollo, Director of the Team Bath MCTA Tennis Academy, said: "I'm certain Sam will be the first of many players from Team Bath MCTA to break the top 200.
"Sam and the others are working so hard towards their goals and the coaches have been there with them every step of the way.
"A special mention must go to Dave Sammel and Ian MacDonald for the work that has gone on and is going on with our senior squad here at the University," he said. "Sam has been on a great run at Challenger level following Wimbledon and the next step is the US Open."
Fellow Team Bath MCTA player Lisa Whybourn is also rising up the world rankings. She ended 2012 at 301 and now stands at 261.
The US Open runs from 26 August to 9 September, with qualifying starting on 20 August.
You can find out more about Team Bath on our website teambath.com
You can also follow Team Bath on Twitter at twitter.com/teambath or facebook.com/teambath
For further information please contact the Team Bath press office at Matchtight Ltd on 01225 383518.