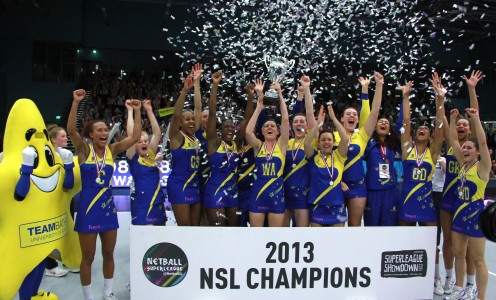 Team Bath have announced a squad with an exciting blend of youth and experience to defend their Netball Superleague title in 2014.
Team Bath are the most successful team in the history of the Superleague – their 62-56 Grand Final victory over Celtic Dragons in May earned them a fifth title from just eight Superleague campaigns.
Head coach Jess Thirlby's 15-strong squad for the 2014 campaign features six senior England internationals and eight curren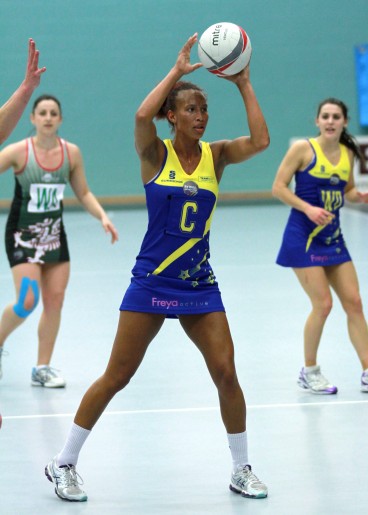 t University of Bath students.
The team, which has Carter Jonas as its property partner, get their campaign underway at home to Team Northumbria on 31 January – full fixtures and ticket information are available here.
Thirlby said she's looking forward to getting the new Superleague season underway.  "I have been really impressed with the standard of our trials this year. Both the number and quality of the players that put themselves forward is the best it's ever been and the players have set very high standards this year," she said.
"We are brutally honest here at Team Bath and reflect on wins and losses with the same amount of scrutiny and look forward to what we know will be another very tough and competitive Superleague season," she added.
England international midcourter Serena Guthrie (pictured) captains the side for the new season after impressing as vice-captain last time around.
She is joined in the squad by England captain Pamela Cookey and fellow senior England international Stacey Francis, both University of Bath graduates. Francis will be Team Bath vice-captain for the 2014 season.
Rosie Allison, Mia Ritchie and Yasmin Parsons have also played for England at senior level. Allison and Parsons are University of Bath students. Allison is a Chris Allen scholar and Parsons a Trendell Sports scholar. Ritchie is a graduate and is supported by a Surridge scholarship.
England under-21 international and Surridge scholar Shaunagh Craig, former Welsh international Amanda Trounce and former Bath NTL player Sophie Masterson also return from the squad that won the 2013 title.
Student Scarlett Williams returns to the squad after missing the 2013 campaign away on her placement year as part of her Sport and Exercise Science degree.
Team Bath also welcome back Ursula Bowers – probably better known to netball fans as Billy Bowers. The former Wales captain was captain of the Team Bath teams that won the first two Superleague titles, in 2006 and 2007, and was a member of the coaching team behind the team's 2013 successes.
New Zealand defender Jenna Murie features in Team Bath colours for the first time after playing for Celtic Dragons last season.
And youngsters Lauren Dent, Ja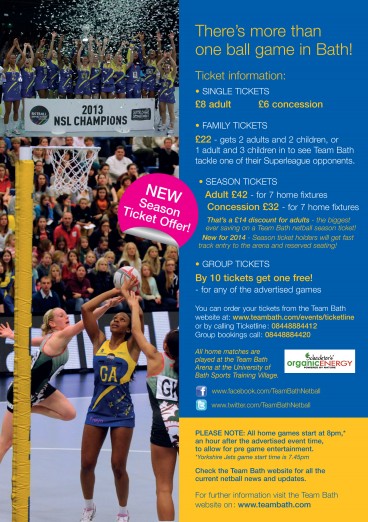 zz Scott and Summer Artman feature in the Superleague squad for the first time. Dent and Scott are both University of Bath Sports Performance students while 16-year-old Artman, an England under-17 player, is on a netball scholarship at King Edward's School in Bath.
"I am really happy with the balance within the squad this year," said Thirlby. "We have some very experienced players and an abundance of leadership within the team, not least the England captain and former Team Bath captain Pamela Cookey, former Team Bath captain of two championship winning Team Bath sides Ursula Bowers and this year's captain Serena Guthrie and vice-captain Stacey Francis.
"Equally important to our successes in the past though is the inclusion of youth and players that bring something different to the team in players like Summer Artman, Sophie Masterson, Jazz Scott and Jenna Murie," she added.
"I feel we have all the ingredients to go a long way this season. We are particularly proud to see the inclusion of so many Team Bath high performance programme athletes and University of Bath students who have graduated to the highest level of domestic netball, a reassuring confirmation that what we do here at Team Bath is working and is creating a player pool for us to choose from."
The full 2014 Team Bath Superleague squad is:
Pamela Cookey – GA, GS
Rosie Allison – GS, GA
Shaunagh Craig – GS, GA
Lauren Dent – GA, GS
Yasmin Parsons – C, WA
Amanda Trounce – WA, C
Jazz Scott – WA, C
Mia Ritchie – C, WA
Serena Guthrie (captain) – WD, C
Scarlett Williams – WD, C
Stacey Francis (vice-captain) – GK, GD, WD
Ursula Bowers – GK, GD
Jenna Murie – GD, WD, GK
Sophie Masterson – GK, GD
Summer Artman – GK, GD
Tickets for the 2014 campaign and a full list of fixtures are available now.
You can find out more about Team Bath on our website teambath.com
You can also follow Team Bath on Twitter at twitter.com/teambath or facebook.com/teambath
You can follow Team Bath netball at twitter.com/TeamBathNetball
For further information please contact the Team Bath press office at Matchtight Ltd on 01225 383518 by email at press@matchtight.co.uk