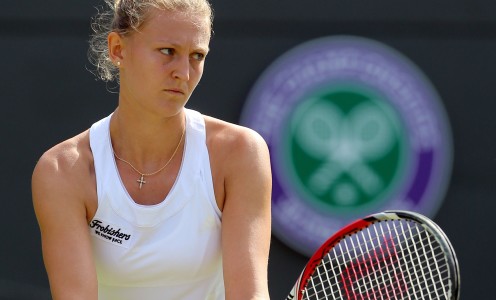 Team Bath MCTA Tennis Academy player Samantha Murray said she could draw plenty of positives from the biggest match of her career to date, after going down to Maria Sharapova on Court 1 at Wimbledon this afternoon (Tuesday).
Murray, ranked 247 in the world, started positively against Sharapova, world number five, the 2004 Wimbledon champion and recent winner of the French Open.
The ope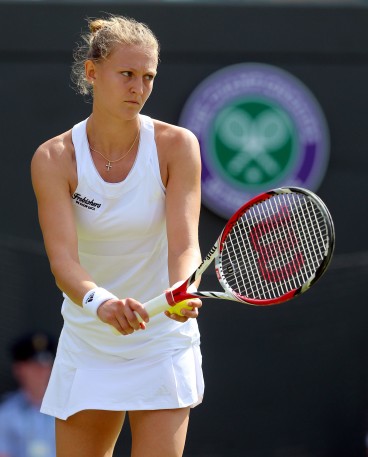 ning two games went with serve, and Murray had the chance to break her illustrious opponent in the third game of the opening set. But Sharapova won it and then broke Murray's serve to go 3-1 up.
That break proved decisive as Sharapova pushed on to run out 6-1 6-0 winner.
"I had a few chances but I just couldn't quite convert them," said Murray, who has trained at the University of Bath for four years.
"I tried to play my game and be aggressive and I think I managed that. I just didn't execute it well enough.
A great experience
"It was a great experience though. I've only been on the court before as a fan and I really enjoyed playing on a court like that," added Murray, playing in only her second Grand Slam after receiving Wimbledon wild cards in successive years.
"It was a great opportunity, a really good experience to play someone of her level. She's by far the highest player I've played."
"I think I'll take the good points from it.  There were definitely some points where I troubled her. I think my game can match up against the best players. I just need to get better at executing.
"Someone as good as Sharapova is never going to give it to you. You have to go out and play and try and take it from her. That's what I set out to do."
And Sharapova plaid tribute to her Bath-based opponent. "I think she has a pretty aggressive game," she said.
"I believe she enjoys playing on grass because she served and volleyed a couple of times, she really went for her shots."
Murray's match was watched closely by players, coaches and staff in the tennis office at the Sports Training Village.
Barry Scollo, Director of Tennis at the Team Bath MCTA Tennis Academy, said: "I think she did really well, particularly at the beginning of the match.
"It was her first time on a major court at a Grand Slam," he added. "She can be proud of herself and we're certainly proud of her."