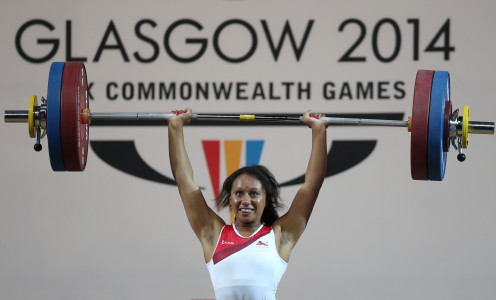 Weightlifter Zoe Smith led the way with a gold medal as University of Bath-based athletes collected five medals on day three of the Glasgow 2014 Commonwealth Games.
It means athletes linked to the University have now won medals on each of the first three days of the Games.
Smith, the bronze medallist for England in Delhi four years ago, made it gold this time around in the women's under-58kg class.
She lifted 92kg in the snatch and 118kg in the clean & jerk for a combined total of 210kg. Both the clean & jerk lift and the total were Commonwealth Games records.
I just can't believe it
"I was just somewhere else entirely, I just can't believe it," said Smith, who does some of her training at the Sports Training Village.
"I have done 118kg before, I knew I could do it, but doing it on the day is a completely different situation altogether.
"To have that 118kg over my head and stand still with it and getting the down signal was the biggest wave of relief I have ever felt. Part of me is glad that that is all done and dusted now.
"This has been a long time coming. I was always going for gold but whether I would get it or not was another thing entirely."
Yet more medals
There were three further medals for athletes with University of Bath links on the last day of judo at the Games.
Sports Performance graduate Gemma Gibbons won silver for England in the women's under-78kg class, losing to Wales' Natalie Powell in the final.
Coach Education & Sports Development graduate Andy Burns (Scotland) and current Team Bath judo player Gary Hall (England) both won bronzes in the men's under-90kg competition.
And there was further success in the pool too for athletes training at British Swimming's National Training Centre at the University of Bath.
Siobhan-Marie O'Connor collected her fourth medal of the Games, this time a bronze in the 4x200m freestyle relay, where Amelia Maughan was also a member of the successful England quartet.
More than 70 athletes with University of Bath links have been selected to compete at Glasgow 2014.
They will represent 10 countries and compete in 11 sports, so be sure to find out when they're in action and keep track of the results.
For more information, like Team Bath on Facebook and follow us on Twitter.
For further information members of the media can contact the Team Bath press office at Matchtight Ltd on 01225 383518 or 07765 071683.
Photo: Zoe Smith on the way to gold – Alasatir Grant/AP/Press Association Images