Athletes linked to the University of Bath produced some terrific performances at the Glasgow 2014 Commonwealth Games winning 27 medals – five golds, 14 silvers and eight bronzes.
They won medals for three countries – England, Scotland and Wales – and across six sports – athletics, badminton, judo, shooting, swimming and weightlifting.
More than 70 athletes with University links were selected to compete at the Games and they collected medals on nine of the 11 days of sport in Glasgow.
Many highlights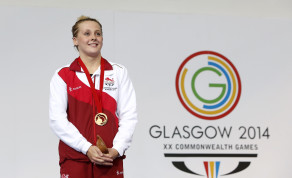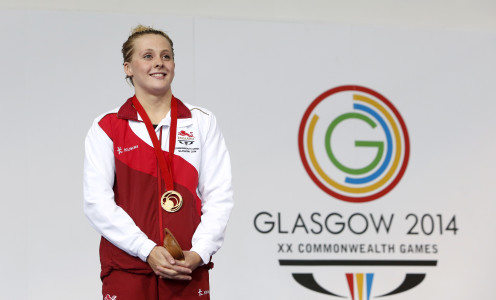 Among the highlights were the double gold won in the pool by England's Chris Walker-Hebborn, who trains at British Swimming's National Training Centre at the University of Bath, and the six medals, including one gold, won by 18-year-old Siobhan-Marie O'Connor.
There were also golds for Megan Fletcher in judo and Zoe Smith in weightlifting, both for England, as well as a stunning 400m hurdles silver won by Scot Eilidh Child.
University of Bath students Kristian Callaghan and Andrew Willis both won medals. Callaghan, an Integrated Mechanical and Electrical Engineering student, won a shooting bronze, while Chemical Engineering student Willis returned home with a swimming bronze. They were among 11 University of Bath students competing at the Games.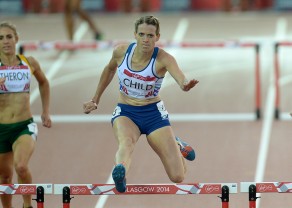 There were also medals for University graduates Danny Talbot (Sports Performance) in athletics, Michael Jamieson (Sports Performance) and Calum Jarvis (Sports Performance) in swimming, Zoe Shipperley (Sports Performance) in hockey, Heather Olver (Coach Education & Sports Development) in badminton, and Andy Burns (Coach Education & Sports Development), Tom Reed (Business Management) and Gemma Gibbons (Sports Performance) in judo.
It was a tough end to the Games for England's netballers, who battled hard but lost their semi-final to defending champions New Zealand by a single goal and were then edged out of their bronze medal match by Jamaica 24 hours later.
A testament to hard work
Stephen Baddeley, Director of Sport at the University of Bath, said: "It's been a fantastic Games for athletes linked to the University of Bath. Seventy athletes representing 10 countries in 11 sports won 27 medals, including five golds. That's a truly impressive achievement.
"It's a testament to the hard work and dedication of the athletes, their coaches and support staff, as well as to the training environment that the University provides.
"There have been some w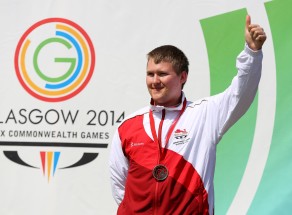 onderful highlights, including the six medals won by Siobhan-Marie O'Connor, the two golds won by Chris Walker-Hebborn and the gold won by Megan Fletcher.
"It was exciting to see Eilidh Child win a silver medal in the emotional cauldron of Hampden Park, followed closely by a long jump silver won by Jazmin Sawyers.
"It's always gratifying to see University of Bath students and alumni doing well at major competitions, and they fared well once again in Glasgow," he added.
"Not everyone can win medals though, and we're proud of the all the athletes connected to the University who went to the Games."
Medals won by athletes with University of Bath links
Gold – 5
Megan Fletcher (judo – under-70kg, England, day 2)
Chris Walker-Hebborn (swimming – 100m backstroke, England, day 2)
Zoe Smith (weightlifting – under-58kg, England, day 3)
Siobhan-Marie O'Connor (swimming – 200m individual medley, England, day 4)
Chris Walker-Hebborn (swimming – 4x100m medley relay, England, day 6)
Silver – 14
Siobhan-Marie O'Connor (swimming – 200m freestyle, England, day 1)
Amelia Maughan & Siobhan-Marie O'Connor (swimming – 4x100m freestyle relay, England, day 1)
Michael Jamieson (swimming – 200m breaststroke, Scotland, day 1)
Tom Reed (judo – under-81kg, England, day 2)
Siobhan-Marie O'Connor (swimming – 100m butterfly, England, day 2)
Gemma Gibbons (judo – under-78kg, England, day 3)
Heather Olver (badminton – team competition, England, day 5)
Will Sharman (athletics – 110m hurdles, England, day 6)
Lizzie Simmonds & Siobhan-Marie O'Connor (swimming – 4x100m medley relay, England, day 6)
Eilidh Child (athletics – 400m hurdles, Scotland, day 8 )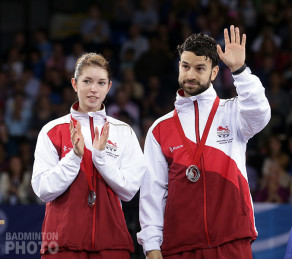 Jazmin Sawyers (athletics – long jump, England, day 8 )
Danny Talbot & Andy Robertson (athletics – 4x100m relay, England, day 10)
Zoe Shipperley (hockey, England, day 10)
Heather Olver (badminton – mixed doubles, England, day 11)
Bronze – 8
Andrew Willis (swimming – 200m breaststroke, England, day 1)
Chris Walker-Hebborn (swimming – 4x100m freestyle, England, day 2)
Calum Jarvis (swimming – 200m freestyle, Wales, day 2)
Andy Burns (judo – under-90kg, Scotland, day 3)
Gary Hall (judo – under-90kg, England, day 3)
Amelia Maughan & Siobhan-Marie O'Connor (swimming – 4x200m freestyle relay, England, day 3)
Kristian Callaghan (shooting – 25m rapid fire pistol, England, day 6)
Emily Diamond (athletics – 4x400m, England, day 10)