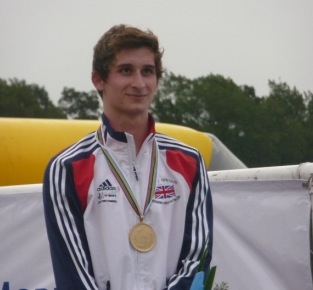 University of Bath-based Modern Pentathlon Performance Director Jan Bartu could not keep the smile out of his normally-controlled voice.
"We are over the moon.  These are fantastic results", he said as his squad began the journey back from Sarasota, USA, where they had just made history by winning the individual men's and women's golds at senior World Cup level for the first time as well as bronze in the women's event.
"These results far exceeded our expectations", he added of the squad that is now safely back at its University of Bath training base. "They show that the athletes and the coaching and support teams are on track in preparations for the Rio Games".
What, then, had penetrated that usual phlegmatic Czech exterior?  Reigning World Champion and 2012 Olympic silver medallist Samantha Murray won gold in Florida.
Perhaps that was to be expected even if stiff opposition came from home-crowd favourite Margaux Isaksen.  The 25 year-old was in the lead going into the run-shoot and held onto top spot with Kate French finishing strongly to win bronze for GB, too.
More unexpected, perhaps, was the performance of Jamie Cooke who won the equivalent men's event.  Cooke's triumph came as a result of a series of consistent performances across the four events – fencing, swimming, riding and then the combined event (run-shoot).
Bartu singled out his fencing for particular praise.  "Jamie put in one of his best fencing competitions ever and that set him up. That was a major, major breakthrough for him", he said.
In the final event of the day Cooke clinched victory by overhauling Egypt's 2014 World Silver Medallist Amro El Geziry after the second of four shooting stages. The Egyptian had started with a four second advantage.
Cooke, from Cheltenham, then held onto his lead ahead of Russia's Egor Puchkarevskiy despite a nervous final shooting stage.
Earlier former World Junior Champion Cooke, with 20 fencing wins, went into the riding competition in third place overall, Choong was fifth and Evans 15th at this stage.  All three British men produced some sizzling swim times. Cooke was the fastest in 1:59.21 and the GB trio were all within three tenths of each other.
Only El Geziry, leading after two events, swam faster. He also secured 23 fencing wins.  Puchkarevskiy was lying second and China's Guo Jianli was in fourth.
Cooke, on a horse called Montey Carlo, put his faith in a controlled and measured ride with the risk of going over the time limit.  His gamble paid off as he went clear and only recorded four time faults.
Bartu, always passionate about his sport also talked of the shift in the balance of sporting prowess at this World Cup.  "There was a strong field here and some strong results for emerging nations like Guatemala.  That can only be good for the sport", he said.
Source: PentathlonGB