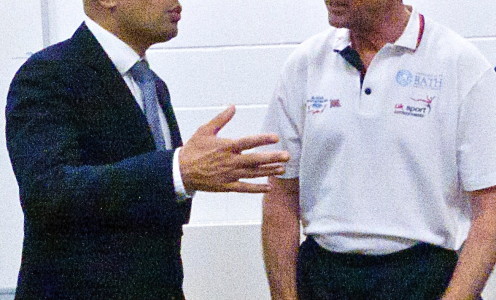 Sajid Javid MP, the Secretary of State for Culture, Media and Sport, has praised the University of Bath for providing "an excellent combination of study and training".
Javid, the Conservative MP for Bromsgrove, was speaking to athletes during a visit to the Sports Training Village on Thursday.
He was given a tour of the facilities by Stephen Baddeley, Director of Sport at the University of Bath, and Helen Nicholls, Performance Advisor for UK Sport.
The Culture Secretary met British Skeleton Performance Director Andi Schmid and Eric Bernotas, coach of newly-crowned World Champion Lizzy Yarnold, praising the sporting body's success during the 2014-15 season as "a good return on our Lottery funding investment".
He then inspected work on the new London 2012 Legacy swimming pool – scheduled to reopen on April 22 – before attending a training session with Pentathlon GB.
After speaking to Chief Executive Nigel Laughton and Performance Director Jan Bartu, Javid met the modern pentathletes – including World Cup medal winners Freyja Prentice and Kate French ­– to discuss the importance of access to education while training as full-time athletes.
Former World Champion Mhairi Spence explained: "This is the only university where you can study and train for modern pentathlon at the same time.
"We are really lucky that not only do we have world-class facilities but the standard of education here is so high as well."
Javid replied: "It is an excellent combination of study and training, and it is such a lovely city to live in as well.
"There is a lot of Government support that goes into these facilities, so it is great to see just how well the investment works."
The Cabinet minister then tried his hand at the shooting discipline of modern pentathlon, aided by young pentathlete Eilidh Prise, before completing his visit with a tour of The Edge – the University's new arts and management building.
Director of Sport Baddeley said: "It was a pleasure to have the opportunity to show the Secretary of State our world-class sporting environment, in particular our London 2012 Legacy Pool which is due to open next month.
"He seemed particularly impressed by the fact that the facilities enable students and members of the public to train alongside world-class athletes."