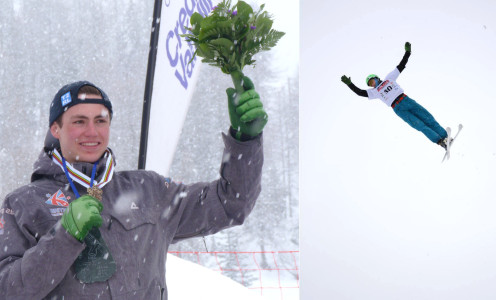 Lloyd Wallace capped the best season of his career so far by winning a bronze medal in aerial skiing at the World Junior Championships in Valmalenco, Italy.
Despite reduced visibility and falling snow, the University of Bath Sports Performance student nailed two triple twisting double somersaults.
That earned the 20-year-old from Shaftesbury a lifetime best score of 190.70 for his full double-full and double-full full, returning him to the podium for the third time in ten days.
"This has been one of my big goals and I am delighted to have made the podium," said Wallace, who won Great Britain's first-ever Europa Cup Aerials gold last week and was second on the overall circuit.
"I would like to thank my Swiss coach, Mich Roth, who has been working with me for the last three years."
Wallace, named SportsAid UK's athlete of the month for March, has Dual Career Athlete status at the University of Bath and is supported by the Elite Athlete Fund.
His 17-year-old sister Elodie also performed well at the World Junior Championships, placing 13th in the ladies' event.
Lloyd and Elodie come from a distinguished skiing family, with parents Jilly Curry-Wallace and Robin Wallace having represented Great Britain in freestyle at the Olympic Games.
For further information, please contact the Team Bath press office at Matchtight Ltd on 01225 383518 by email at press@matchtight.co.uk