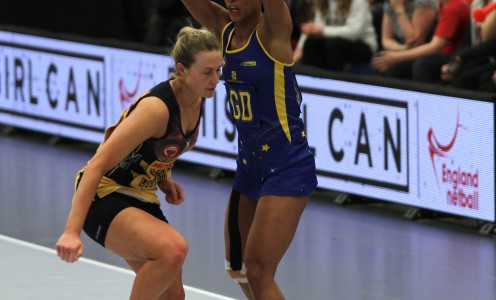 Stacey Francis is confident she will be fit for England's Netball World Cup campaign, despite being ruled out for the remainder of Team Bath Netball's regular Superleague season.
The influential defender sat out Monday night's 42-33 defeat at Hertfordshire Mavericks after being told she must rest a knee injury.
She will also miss Thursday's must-win trip to fourth-placed Yorkshire Jets, the Easter Monday visit to Loughborough Lightning and the final home game of the Superleague season against Celtic Dragons on Monday, April 13.
However, Francis is determined to be back in contention for England Netball's World Cup warm-up match against Trinidad & Tobago at the University of Bath on Wednesday, May 6.
"I am on crutches for the next two weeks and then have another two weeks of recuperation after that but the hope is I will be back fit for the England games," said the 27-year-old.
"My knee has been incredibly sore from just before the start of the season. I was sent for a scan last week and it found I had bone bruising and articular cartilage damage.
"It's frustrating because I feel I have been playing well this season and we have some really big matches coming up. I really felt we were picking up momentum as a team and I wanted to be part of that but the nature of high-performance sport is you will get injuries."
Francis was replaced by New Zealand import Bessie Manu at goal-defence for Monday's crunch match at play-off rivals Hertfordshire Mavericks.
And Manu and goal-keeper Sam Cook were in dominant form for the first quarter, giving Sarah East and Louisa Watson little to work with as Team Bath opened up a 13-10 lead.
The visitors needed a win to close to within three points of Mavericks and, despite unforced errors from both teams, were well placed as they led 21-18 at half-time.
However, the introduction of Camilla Buchanan at centre turned the game in Mavericks' favour and, with the home shooters beginning to find their range, Team Bath found themselves trailing 30-28 going into the final quarter.
Mavericks pulled away in the closing stages to seal a victory which leaves Team Bath nine points adrift of the play-offs with three games to play, starting with Thursday's must-win match at fourth-placed Yorkshire Jets.
Head coach Jess Thirlby was frustrated by Monday's result and performance, telling Sky Sports: "It was a disappointing second half considering how much control we'd had early on in the game.
"Defensively, Sam and Bessie have not played together much as a combination this year but I don't think they could have done anything more, they played really well.
"But then it was like we got nervous about being on top and when we got turnover ball we just didn't capitalise on it enough.
"To be honest, I'm just thinking of one match at a time so this result won't change much, it's just about putting our best foot forward in the next match.
"That is against Jets and it is a massive opportunity for us to again show how much we have improved in the second half of the season."
Tickets are now on sale for Team Bath Netball's final home game of the regular Superleague season on Monday, April 13 (7.45pm). Doors open at 6.45pm and pre-match entertainment and warm-ups get under way at 7pm.
Tickets are available from http://teambath.ticketline.co.uk/ and http://tickets.sky.com/Netball/Team-Bath.
For further information, please contact the Team Bath press office at Matchtight Ltd on 01225 383518 by email at press@matchtight.co.uk