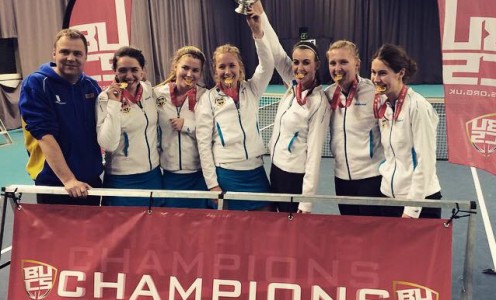 The University of Bath women's tennis team are celebrating after recording a fantastic four successive victories in the BUCS Team Championship Finals.
Their latest triumph came during BUCS Big Wednesday at Loughborough University, where they enjoyed an 8-4 victory over Durham University.
Alex Walker lost 6-1 6-2 to Mallory Cecil but Bath won the three other singles matches to take control.
Natasha Starling beat Vicky Lozano 6-2 5-7 6-1, Elaine Genovese recovered from a slow start to overcome Jessica Ren 0-6 6-3 6-4 and Emma Hurst breezed to a 6-1 6-1 victory over Izzy Hearnshaw.
Starling and Walker lost 6-1 6-1 to Cecil and Lozano in the doubles but overall victory was secured when Genoveze and Hurst beat Heanshaw and Ren 6-2 7-6(1) in the other doubles match.
The University of Bath men's team also reached the final and put up a good fight against a strong Durham side before going down 10-2.
Max England recorded a fine 6-1 6-4 victory in his singles match against Kirill Sinitsyn, while John Thompson, Luke Simone and Sean Siveweright were also in the Bath team.
Barry Scollo, Director of Tennis at the University of Bath, said: "I am delighted the girls have had such a terrific run. To win four years in a row is a terrific achievement and to see our boys step up a level and reach the final is also very encouraging."
For further information, please contact the Team Bath press office at Matchtight Ltd on 01225 383518 by email at press@matchtight.co.uk