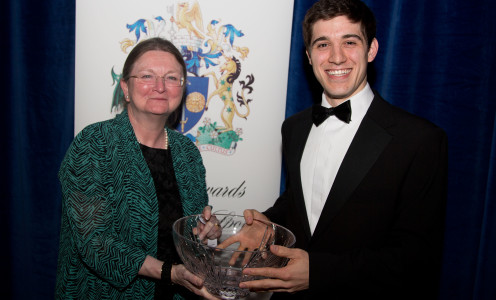 Chris Hotchen was named as the University of Bath's Sports Personality of the Year during a great night for badminton at the annual Blues Awards ceremony.
The Chemistry PhD student topped a poll of members of the Students' Union Sport from a shortlist which also featured rugby player Freddie Clarke, rower Sam Courty and swimmer Jay Lelliott.
He was presented with his award by the University of Bath Vice-Chancellor, Professor Dame Glynis Breakwell, pictured.
Red Bull sponsored the Sports Personality prize and Hotchen will receive two VIP tickets to attend either the Soapbox or Red Bull Air Race later in the year.
Hotchen also received the Gethin John Bevan Club Member of the Year Award for his voluntary work in the sport.
And the University of Bath Badminton Club, which Hotchen has captained since 2011, was named as Club of the Year during a memorable gala evening at the Assembly Rooms.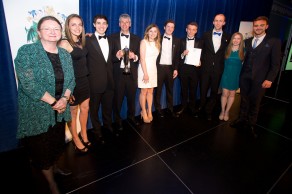 Head badminton coach Pete Bush said: "We are ecstatic, it is a fantastic achievement for Chris and the badminton club.
"Everyone has worked so hard over the years to develop a really good atmosphere at the club and people clearly want to be involved with it before there are now more than 350 members.
"I was delighted to see Chris get the recognition he deserves. He is so professional, dedicated and committed to the sport and you can always trust him. He helps me so much and he thoroughly deserves these awards."
Past winners of the Sports Personality of the Year Award include Olympic and Paralympic medallists Michael Jamieson and Ben Rushgrove.
Mark Skimming was presented with the Ivor Powell Award for Excellence in Coaching after guiding four swimmers to the Glasgow 2014 Commonwealth Games and the University of Bath swimming team to second-placed finishes at the BUCS Long and Short-Course Championships.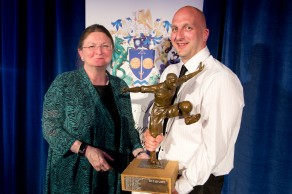 Those achievements were also recognised as the swimmers were named as BUCS Team of the year.
The David VandeLinde Prize – which recognises sporting accomplishment, leadership and academic success – went to Team Bath Buccaneers Hockey Club vice-captain Niklas Rieger, a German international studying Economics and Politics.
Honorary Blues, awarded to any person who has made an outstanding contribution to the development of university sport, were presented to Integrated Mechanical & Electrical Engineering student Stuart Gordon (canoeing and boating), Mathematics graduate Katie Holmes (trampolining) and Professor Kevin Edge, who is retiring from his role as Deputy Vice-Chancellor in May.
Sixteen medallists from the Glasgow 2014 Commonwealth Games who train at the University were also presented with Honorary Blues.
Vice-Chancellor, Professor Dame Glynis Breakwell, said: "We have a proud tradition of sporting excellence here at Bath and it is always a pleasure to celebrate with the athletes at this awards evening."
2015 Roll of Honour
Sports Personality of the Year
Chris Hotchen (badminton)
Shortlisted: Freddie Clarke (rugby), Sam Courty (rowing), Jay Lelliott (swimming).
BUCS Team of the Year
1st: Swimming
2nd: Men's rugby 7s
3rd: Women's tennis 1sts
Club of the Year
1st: Badminton
2nd: Water Polo
3rd: Trampoline
Gethin John Bevan Club Member of the Year
Chris Hotchen (badminton)
The David VandeLinde Award
Niklas Rieger (hockey)
Ivor Powell Award for Excellence in Coaching
Mark Skimming (swimming)
Honorary Blues
Stuart Gordon (canoeing and boating)
Katie Holmes (trampolining)
Professor Kevin Edge (Deputy Vice-Chancellor)
Glasgow 2014 Honorary Blues
Andy Robertson
Eilidh Child
Emily Diamond
Jazmin Sawyers
Danny Talbot (all athletics)
Megan Fletcher
Tom Reed (both judo)
Kristian Callaghan (shooting)
Michael Jamieson
Calum Jarvis
Amelia Maughan
Siobhan-Marie O'Connor
Lizzie Simmonds
Chris Walker-Hebborn
Andrew Willis (all swimming)
Zoe Smith (weightlifting)
Full Blues
Ben Sutton (shooting)
Samuel Hatherley
Ben Mackey (both hockey)
Thomas Edwards (fencing)
Freddie Clarke (rugby)
Jay Lelliott (swimming)
Samantha Courty (rowing)
Half Blues
Clare Maurer (athletics)
Nicole Webb
Lubomira Stoynova
James Scott
Hannah Kathryn Preece (all badminton)
Luca Signorelli (hockey)
Rebecca Rose Cantin
Lauren Dent
Jasmin Scott (all netball)
Sara Parfett (rowing)
Gavin Grant
Marcus Beer
Michael Perks (all rugby)
Warren Cannon (swimming)
Natasha Starling (tennis)
Honorary Colours
Association Football and Futsal
Jack Stanbury
Henry Milton
Badminton
Ross Alexander Blyth
SU Sports Executive
Sophie Gillibrand
Julia Scrivin
Colours
American Football
Timothee Gallot
Nicholas Wiggett
Charles Cresswell
Thomas Solan
Ryan John Harvey
Alex Reilly
Paul Potter
Alexander Hubbard
Association Football and Futsal
Jordan Guttridge
Callum Wright
Badminton
Thomas Ashley Leonard
Amy Reddaway
Basketball
Jack Hulme
Thomas Riley
Astrid Frank
Jonathan Cieply
Canoe
Rachel Fellows
Alice Walker
Emily Waters
Hannah Sullivan
Golf
Tomas Morgan
Oscar Lidman
Adam James Douglas
Hockey
Alexander Lloyd
Sam Wilson
Jonathan Verity
Oliver Head
Jonathan Spencer
Elizabeth (Libby) Wright
Victoria Sauven
Alexander Gray
Lucinda Dawson
James Irons
Frederick Everett
Shannon Nash
Emily Lewis
Jessica Faulkner
Max Charron
Harry Black
Richard James Ashworth
Thomas Elvidge
Nicholas Scott
Rosa Parmegiani
Jack Kelly
Phillippa Baldrey
Nathan King
Danielle Fletcher
Karate
Laura Miles
Shakira Jade Smith
Charlotte Durant
Rose Nnando
Daniel Barclay
Lan Pak Kee Kee Lioung
Frederick Daniel
Lewis Gardham
Alex John Powell
Lacrosse
Charles BJ Kowszun
Katie Stebbing
Jennifer Eathorne
Tim Lyne
Ross Freeguard
Rebecca Drakeford
Kelly-Jane Hughes
Netball
Indiya Augustine
Lucy Bratton
Rebecca Johnson
Jessica Dudley
Harriet Shearing
Robyn Louise Curnow
Rugby (Union and League)
Lucy Norton
George Stephenson
Kieran Chandler
Hamish Donald
Thomas Fletcher
Luke Huelin
Owen Nicholls
Ben Sanderson
Toby Davies
Hugo Govett
Jonathon Michael Wheeler
Harriette May Warner
Matthew Koep
Rowing
Holly Cotton Foskett
Thomas Peirson-Smith
Shooting
Hayley Whitehorn
Tennis
Barbara Pietrkiewicz
Henry Ogden
Trampolining
Nicola Williams
Ultimate Frisbee
Daniel Ryle
Waterpolo
Jean-Christophe Heib
Nina Rickards
Holly Clemens
Christopher Vine
James Sawley
Zoe Kennerley