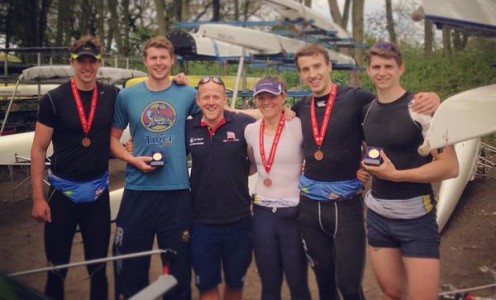 There was a gold, a silver and two bronze medals for University of Bath rowers as they continued their impressive 2015 form at the BUCS Regatta, staged at Nottingham Water Sports Centre.
Mechanical Engineering student Alex Wilding and Ben Jackson, who is studying Sport & Exercise Science won the men's intermediate double scull final in 7:53.94 to finish six seconds clear of the field.
They then teamed up with Nick Bell and Frazier Christie to win a silver medal in the men's quadruple scull, edging Nottingham University into third place on the line. A Reading University crew featuring University of Bath graduate Adam Freeman-Pask took the title.
Bell and Christie – who are studying Sports & Exercise Science and Economics respectively – were involved in an equally thrilling finish to the men's championship double scull final.
There was just 19-hundredths of a second between runners-up Surrey and fourth-placed Cardiff, with the Bath duo finishing third in 7:36.27.
Bath's medal haul was completed by Sport & Exercise Science student Sam Courty, who won bronze in the women's championship single scull behind GB Rowing Team members Melanie Wilson (Imperial College) and Mathilda Hodgkins-Byrne (Reading).
Courty had teamed up with Liz Pressage, Simone Pilgrim and Holly Jones the previous day to reach the A final of the women's championship quadruple scull, finishing sixth
Christie was fifth in the men's championship single scull in 7:23.72, with Bell fourth in the intermediate A final in 7:28.07.
And Jessica Clark reached the women's beginners single scull A final, finishing sixth in 9:21.85.
Head coach Dan Harris said: "It was a really strong set of results and we built on last year's performances. We knew we stood a good chance of medaling because of how we have done during the season but it is different actually doing it on the day.
"We did well at the Head of the River Races earlier in the year and it was good to see we were really competitive over 2,000m as well."
Pictured are (from left) Frazier Christie, Alex Wilding, coach Dan Harris, Sam Courty, Nick Bell and Ben Jackson. PICTURE: @SamCourty