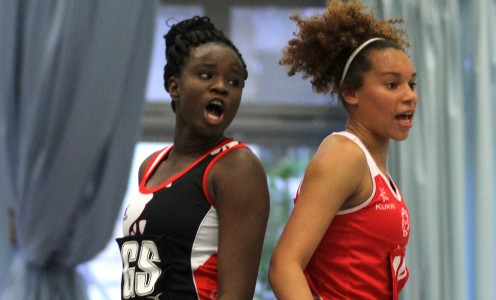 Team Bath Netball defender Sam Cook helped England make a dream start to their Test series against Trinidad & Tobago in front of a large and noisy crowd at the University of Bath.
Cook started at goal-keeper for Wednesday's series opener and formed an effective defensive partnership with Sonia Mkoloma – making her first international appearance in four years – as England won 65-42 in a televised encounter.
Former Team Bath players Sara Bayman and Pamela Cookey were also in the starting seven, with the latter being named as player of the match on her return to the Sports Training Village.
Cookey, who missed the 2014 Commonwealth Games with a serious knee injury, was presented with her award by Team Bath Netball head coach Jess Thirlby.
"I've found a new lease of life after my injury," said Cookey as she was interviewed by Thirlby for Sky Sports.
"I'm just enjoying playing and not worrying about anything."
Team Bath Netball defender Stacey Francis was rested for the game with a minor injury and will also miss Friday's second Test at the Copper Box in London.
However, she is expected to play in Monday's final match against Trinidad & Tobago at the Echo Arena in Liverpool.
Francis was replaced in the squad by Lindsay Keable, one of four University of Bath graduates on the bench including Kadeen and Sasha Corbin and Rachel Dunn.