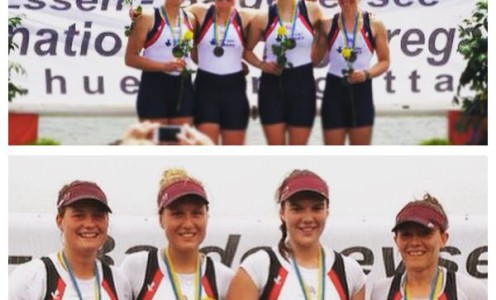 University of Bath student Sam Courty won two gold medals and a silver when she represented the GB Rowing Team during a successful weekend at the 2015 International Huegel Regatta in Essen, Germany.
It capped a memorable week for the 22-year-old, who also handed in her final assignment for her Sports & Exercise course.
She teamed up with Emily Ford, Annie Whithers and Susie Dear for two women's four races on Saturday, finishing runner-up to a strong German team in the first and gaining a narrow victory over a Dutch crew in the second.
Courty and Ford were then joined by Holly Hill and Melissa Wilson in the four on Sunday, winning gold by a 15-second margin in 7:37.25.
"It was a really good weekend and a really good opportunity to get some international racing in," said Courty, who won silver with the women's eight at last year's World U23 Championships.
"It's good to know where you are starting off compared to other crews and countries.
"It was weird how we had three completely different situations in three races. The first featured a really strong German crew whose four members had all gone to the World U23 Championships last year, so it was good to test ourselves against them.
"We only had to focus on one other crew in the second race, so the tactics had to change a bit. We got out well and got in front but at this level the opposition just don't give up – we were hoping they would fade but they didn't.
"It was a race right to the line but we held on and it's good to know we could deal with that situation, where we were being pushed all the way.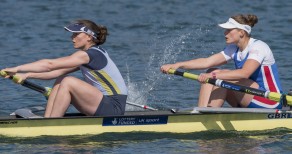 "We changed the crew on Sunday, as did most of the other countries, and we won by four or five lengths. It's really good when you can do a quick switch like that and it still works, it shows the strength in depth in the women's sweep squad.
"The conditions were not fantastic during the weekend – the lake had sailing boats around the outside and cruiser ships carrying passengers up and down, so the water was choppy and washy.
"There was a head wind on both days too but it was good to actually have to race in those conditions and deal with it, like we'd have to at a major championships."
Economics student Frazier Christie also gained valuable international experience in Essen as part of the U23 men's quadruple scull.
He teamed up with Tom Barras, Alex Haynes and George Stewart to finish third on both days in a very competitive field.
Both Courty and Christie will be hoping to represent the GB Rowing Team at the World U23 Championships in Plovdiv, Bulgaria this summer.
They are coached by Dan Harris on the Start programme at the University of Bath and both are supported by a Santander Sports Scholarship.
"It was a great to have two of my athletes representing the GB Rowing Team in Germany but there is still lots of work to do," said Harris.
"They go back into an intense training period now to ensure they are in shape to get in top crews for the World U23 Championships.
"The Essen Regatta itself was extremely useful. The key for the athletes at this stage is that they are learning valuable lessons from racing at this level, so they can use the experience to build their performance through to the Worlds."
Courty arrived at the University of Bath as an equestrian rider in September 2011 but will graduate this summer as one of the country's most promising young rowers.
"It's fantastic to now be able to train full-time," she added. "I can just concentrate on my rowing but it's a bit scary as well, I have to go into the real world now!"
Courty was honoured for her sporting achievements in Bath by being shortlisted for the Sports Personality of the Year prize at this year's Blues Awards. She was also presented with the Tugendhat Trophy in 2014 for student athletes who have excelled in sports which were unfamiliar to them before attending university.
For further information, please contact the Team Bath press office at Matchtight Ltd on 01225 383518 by email at press@matchtight.co.uk