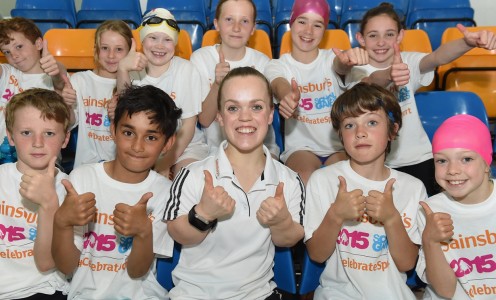 Paralympic swimming champion Ellie Simmonds has given the University of Bath's newly-refurbished London 2012 Legacy Pool the thumbs up, describing it as "incredible".
The four-time gold-medallist, who has an honorary degree from the University, visited the Sports Training Village on Friday to promote the Sainsbury's School Games.
The West of England regional finals – organised by the West of England Sport Trust (Wesport) – will once again take place at the University of Bath, with this year's competition on Wednesday, July 8.
And after staging a swimming lesson for pupils from Bathwick St Mary Primary School, Simmonds said both the Games and the refurbished pool were great examples of the London 2012 legacy in action.
"For kids from local schools to have a facility like this to compete in is incredible," said the 20-year-old, who competed at the School Games in 2006 before going on to win double gold at both the Beijing 2008 and London 2012 Paralympic Games.
"It's also great that this pool isn't just for British Swimming and the elite athletes, that it is open to the public.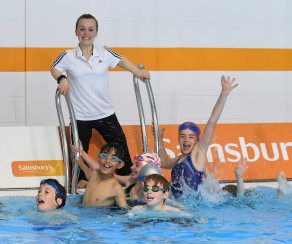 "When you talk about the legacy of London 2012, it is facilities like this and when you have something like it on your doorstep you need to grasp the opportunity to come in and use it.
"You don't have to be a competitive swimmer, you can just do one length of physical activity. Swimming is so good for your joints and your mindset as well.
"I started swimming and doing other sports at a very young age and I think it is so important for all kids to get involved – not just swimming, any sport.
"The Sainsbury's School Games are important to motivate and inspire millions of young people across the country to take part in school sport.
"The Games provided me with a great stepping stone in my career, and I'm sure there will be future stars competing in Bath this year.
"There are events happening across the region and I encourage young people to celebrate sport and get involved."
Simmonds was assisted with the swimming lesson by Sports and Social Science student Emma Heaton, who is a voluntary swimming coach with Team Bath Tribe.
It was Simmonds' second visit to the Sports Training Village this year, following her support of the Inclusive Futures initiative in February.
She was presented with an Honorary Doctor of Laws degree in 2013 during a ceremony at Bath Abbey to install HRH Prince Edward, The Earl of Wessex, as Chancellor of the University of Bath.
"I feel really lucky to have an honorary degree here," Simmonds added. "I always look forward to coming back."
For further information, please contact the Team Bath press office at Matchtight Ltd on 01225 383518 by email at press@matchtight.co.uk