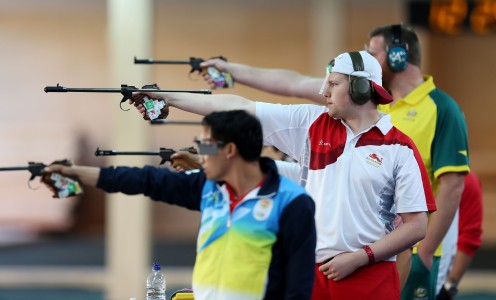 Sharp-shooter Kristian Callaghan has been selected to represent Great Britain at the World University Games for the second time in three years.
The University of Bath Integrated Mechanical & Electrical Engineering Masters is part of a seven-strong shooting team set to compete in the multi-sport championships, being staged in Gwangju, South Korea.
He is the second Bath student to get the call, following Chemical Engineering student Angus Pedersen's selection in the badminton squad.
Callaghan – a 25m rapid-fire pistol bronze-medallist at the Glagsow 2014 Commonwealth Games – had previously competed at the 2013 World University Games in Kazan, Russia.
He finished 13th in the 25m standard pistol and 16th in the 50m pistol – results he is confident of bettering when this summer's event takes place from July 3-14.
"I am very much looking forward to going to the Games again," said Callaghan, a TASS (Talented Athlete Scholarship Scheme) scholar who won 25m rapid-fire pistol gold for Britain at the 2013 Australian Youth Olympic Festival.
"I will be shooting 10m air pistol, 25m rapid-fire, 25m standard pistol and 50m pistol in Korea, and as always will be looking for improvements and finals across the board."
Callaghan is flying out to Germany today (Friday) to prepare for the ISSF World Cup in Munich, taking place from May 27-30.
He has only just returned from the World Cup in Fort Benning, US, where he set a lifetime best of 554 points in the 50m pistol, topping the rankings in the MQS competition.
The category only exists at World Cups and provides athletes with the chance to attain the minimum qualification score set by the International Shooting Sport Federation (ISSF) for the Rio 2016 Olympic Games.
"I have now achieved the MQS in all three Olympic events I shoot – 10m air pistol, 25m rapid-fire and 50m pistol," Callaghan said.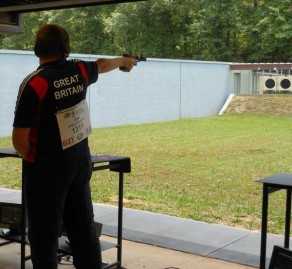 "I am, of course, very pleased with my 50m pistol result in Fort Benning, not only because it was a great score but also as I topped the category against strong nations such as China, Korea and Italy.
"My previous lifetime bests in that event were set at the Commonwealth Games and the World University Games, so my track record for 50m pistol at major matches is becoming very strong."
Callaghan contested the main sections of the 25m rapid-fire pistol and 10m air pistol in the US, scoring 555 and 564 points respectively.
"My performance in the 25m rapid-fire was a little disappointing," he said. "A number of simple but costly mistakes were made in the slower series, which I am now working on prior to the bulk of my competitions this summer.
"The faster, generally more challenging parts of the rapid-fire match went well, though, which indicates that my training is working well.
"My 10m air pistol match also highlighted a few issues to work on but, on the positive side, it is very helpful that I am able to identify and remedy these few issues early in the season."
With 2015 serving as Olympic qualification year for shooting, competition is fierce with all of the major events being well attended.
Two rapid-fire quota places are available at each World Cup – the last of 2015 will be staged in Gabala, Azerbaijan in August – and three will be up for grabs at the European Championships, taking place in Maribor, Slovenia during July.
For further information, please contact the Team Bath press office at Matchtight Ltd on 01225 383518 by email at press@matchtight.co.uk