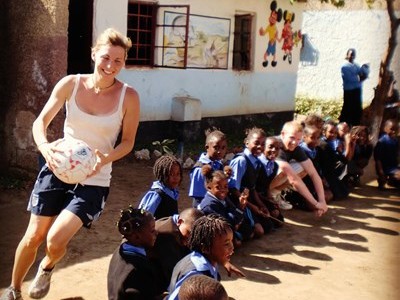 University of Bath students past and present have flown out to Zambia to take part in this year's "life-changing" UK Sport IDEALS programme.
It is the tenth anniversary of the scheme, which sees aspiring coaches spend six weeks delivering PE lessons in schools and villages, as well as set up sporting competitions between neighbouring communities.
Footballer Alice Evans, a Wales international goalkeeper, and netballer Jade Traynor – second-year students in Sports Performance and Sports Science respectively – arrived in Africa on Tuesday, accompanied by Team Bath Athlete Support Officer Jack Grundy.
Sports Performance student George Lavender and Abi Masters, who is in the first year of a Sport & Social Science degree, will then head out on August 20.
Acting as Team Leaders in Zambia throughout the summer will be two Bath alumni who took part in the IDEALS project as students – Bristol Academy footballer Grace McCatty and Biology graduate Steph Gubas.
McCatty, who studied Coach Education and Sports Development, is missing the second half of the FA Women's Super League season to once again support a project she says was a defining experience both personally and professionally.
"When I look back at my time at the University of Bath, I remember the excellent sport and education but Zambia is the thing that really stands out – it was six weeks that genuinely changed my life," she said.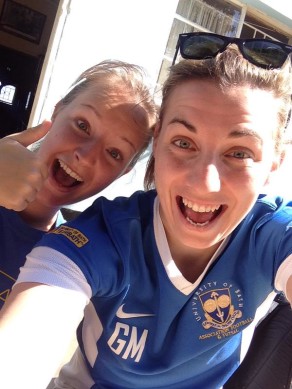 "I went out with the first group in 2010. I think I was quite naïve about the project, even when I was heading out, but I would say that experience has shaped everything I have done since.
"Because of my background at the University of Bath, with all of those amazing facilities, and with Bristol Academy, I have always experienced the elite end of sport.
"Then you go to Zambia and meet kids who don't have any shoes, who wear the same clothes every day, but you throw them a football and you see the massive smiles on their faces. It really opened my eyes to how sport can empower and improve people's lives."
McCatty is looking forward to visiting the communities she worked in five years ago – "I formed a lot of emotional attachments" – and is also excited about helping the current students get the most from their visit.
"I had such a phenomenal experience in Zambia and now I will get to shape the experience of this year's students," said the Bristol Academy captain.
"Not only will this trip help them develop professionally as coaches, it will change them as a person. It will put them in situations that will challenge them and really help them grow.
"It is surprising how many students don't know about the IDEALS programme but it is something I would absolutely recommend they find out about. Ever since I went I have told people to go for it.
"It is a big commitment, with the fundraising activities and the weekly meetings before you even get to Zambia, but it is well worth the effort because it adds so much to the university experience."
Applications are now being taken for the 2016 IDEALS Project, with a closing date of Friday, September 25, 2015. Go to www.teambath.com/t-d/student-opportunities/zambia-ideals-project/ for more information.
There will be a further University of Bath link in the programme's tenth year as Director of Sport Stephen Baddeley will be attending a two-day conference in Lusaka, the capital of Zambia, in July.
The Zambian Sport Development Conference is being organised by the Wallace Group, a collective of UK Higher Education Institutions – including the University of Bath – that have a shared ethos towards sport's excellence and development.
The four students taking part in this year's IDEALS programme have been busy raising the money to cover their travel costs by organising a number of sponsored events around the campus.
They also staged a sporting Take Me Out, based on the ITV dating show, which was hosted by modern pentathlon World Champion Samantha Murray and Team Bath Buccaneers hockey player Andrew Eversden. He is also coach of the University of Bath women's student team.