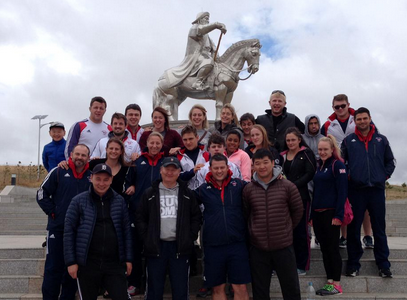 Team Bath Judo Club's Ben Fletcher, Megan Fletcher and Gemma Howell are finalising their preparations for this month's European Games at a training camp in Mongolia.
University of Bath graduate Gemma Gibbons – the London 2012 Olympic silver-medalist – is also part of the touring group.
It is the first time the British Judo Association has gone to the Central Asian country, whose judoka are considered to be among the best in the world.
"They have a lot of strong players, so it is a good guarantee that we will be training at the highest level," said Megan, who won 70kg gold at the Glasgow 2014 Commonwealth Games.
"I'm really excited about going to Mongolia. They are a really strong nation in judo and it's going to be a good experience to train alongside them in a different environment.
"Everything has been going really well. Most of the hard work has been done, it's just a case of polishing up and getting mentally ready."
Younger brother Ben added: "Mongolia are a particularly good judo nation and it is a bit different for us. It sometimes helps when you are away before a major event as you can really start to focus."
The first-ever European Games are taking place in Baku, Azerbaijan from June 12-28, with the judo competition – doubling as the sport's European Championships – starting on June 25.
And Ben is looking forward to experiencing a multi-sport environment after being ruled out of the Commonwealth Games by a knee injury.
"I've not been the luckiest with major championships," said the 23-year-old, who will compete in the 100kg weight category.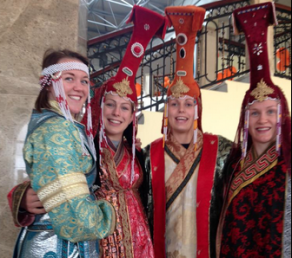 "I qualified for the last two but, for whatever reason, wasn't actually able to compete in them. Hopefully I can actually get to this one but also do well once I'm there – I don't just want to take part.
"The knee injury came just two weeks out from the Commonwealths when we were on a training camp in Spain. It was obviously really bad timing but these things happen in a full-contact sport.
"It was a patella dislocation, which was serious, but I was quite lucky not to do any ligament or cartilage damage
"It was one of those injuries which you can make worse or a recurring problem if you try to come back too quickly, so I was out of judo for two-and-a-half months and didn't compete for four or five months.
"But I've had no problems since, the rehab all went well."
The Fletchers and Sport and Exercise Science student Howell – a London 2012 Olympian – train with University of Bath High Performance Judo Coach Juergen Klinger at the Sports Training Village.
It is a busy period of international competition for Team Bath, with four judoka – Tom Reed, Emmanuel Nartey, Gregg Varey and Gary Hall – taking part in the European Judo Open in Cluj Napoca, Romania last weekend.
Varey and Jan Gosiewski – a Mechanical Engineering PhD student at the University of Bath, who is supported by a Trendell Scholarship – are competing in the European Judo Open in Minsk, Belarus this weekend.