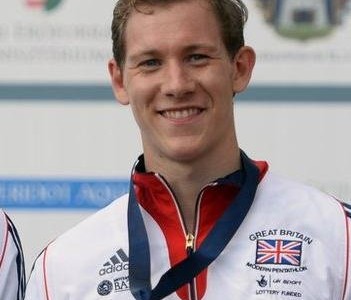 University of Bath student Tom Toolis was the highest-ranked Pentathlon GB athlete at the weekend's World Cup Final in Minsk, Belarus.
Toolis, who is studying Sport & Exercise Science, overtook team-mate Jamie Cooke to finish 22nd overall on Saturday.
Former World Junior Champion Cooke was two places further back, while Sports Performance student Joe Evans came home in 32nd place.
Victory went to Italy's Riccardo De Luca, who claimed the sole Rio 2016 Olympic qualification place on offer.
Cooke, gold medallist at the first World Cup of the year, won 15 of his fencing bouts and continued his fantastic swimming form, setting the joint-fastest 200m freestyle time of 1:56:46.
He then built some momentum in the horse riding, jumping a clear round on Klondaik and picking up just two time faults, to go into the combined run/shoot in ninth place.
However, Cooke was unable to capitalise on his impressive swimming and show-jumping results and dropped down the rankings.
Toolis, competing at the World Cup Final for the first time, won 13 fencing bouts – as did Evans – and came 12th in the swim with a time of 2:03:59.
He then had one fence down and seven time faults on his horse Karelia to go into the run/shoot 26th overall but produced a strong finish to move up four places.
Evans recorded a fantastic time of 1:59:28 in the pool, the third-fastest of the day, and only had one fence down and five time faults after his round on Kargelen in the show jumping.
That meant he started the combined event in 23rd but he lost ground and had to settle for 32nd place overall.
Toolis, Cooke and Evans will now switch their attention to the World Championships, taking place in Berlin, Germany from June 28 to July 4.
Mathematical Sciences student Joe Choong joins them in the men's squad, while the women's team is made up of defending World Champion Samantha Murray, Kate French, Freyja Prentice and Francesca Summers.
There will then be another chance to secure an Olympic qualification place when the University of Bath stages the European Championships from August 18-23.
All of the events will take place at the Sports Training Village and tickets are now on sale for what promises to be an unforgettable week of world-class sport.
Go to http://www.pentathlongb.org/euros2015/ for more information.
Don't forget, you can have a free go at modern pentathlon during the Team Bath Community Activity Day, taking place from 12-4pm on Saturday, June 20. Click here for further details.