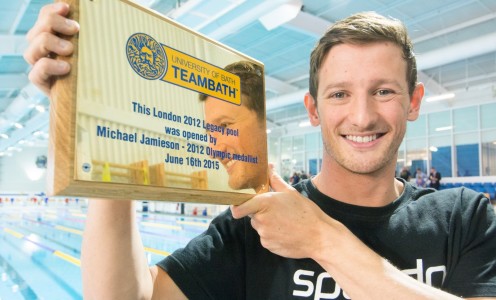 Olympic medalist Michael Jamieson today officially opened the newly-refurbished £1.6million London 2012 Legacy Pool at the University of Bath.
The University of Bath Sports Performance graduate, who famously won 200m breaststroke silver at the London Olympic Games, was shown a commemorative plaque by Director of Sport Stephen Baddeley before ceremonially cutting ribbons of blue and gold – the colours of sport at the University – to start a relay exhibition race.
Jamieson was watched by his team-mates from the British Swimming National Training Centre, Bath, which is based at the University's £30million Sports Training Village – one of only two such National Centres in the country.
"I am privileged to have performed the official opening," said Jamieson. "The pool here in Bath has been home for five-and-a-half years now and every medal I have won on the international stage has been down to the facilities and the staff here.
"I owe them a huge debt of gratitude. I also have to thank Sport England for allowing us to have the London 2012 Legacy Pool here at the University and, of course, British Swimming."
Also in attendance at the official opening were representatives of Sport England, who provided the University of Bath with the Olympic-sized legacy pool itself and funding for major renovations.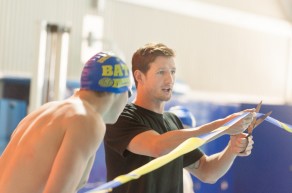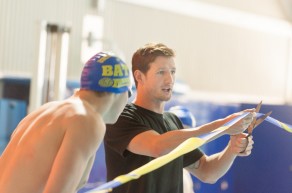 UK Sport has also supported the project with funding for technology and analysis, including a £30,000 state-of-the-art camera system which allows elite swimmers to analyse their stroke in training.
British Swimming National Training Centre Bath Head Coach Dave McNulty explained: "The cameras pick up things that, as a coach, we just don't see – we watch training from above and a little from the side but this allows us to see it from every angle.
"There are 24 cameras and two big plasma TVs, so we can really look at the fine details of the technique with the swimmers on a big screen.
"We are looking for Olympic medals here, so we need every little bit of one per cent improvement we can get."
Speeches were made by Mr Baddeley, James Buller, Relationship Manager – Capital Projects with Sport England, and Tim Jones, National Performance Pathway Manager for British Swimming.
The extensive refurbishment of the pool took 15,000 man hours to complete and saw the whole tank replaced. The plant room, which ensures that the pool water circulation system operates efficiently, has also been modernised and the changing room facilities have been upgraded.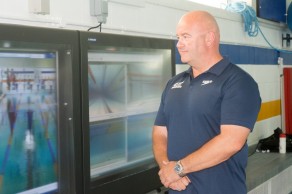 Backstroke specialist Chris Walker-Hebborn, one of many reigning Commonwealth and European champions based at the National Training Centre, has been at the University since British Swimming established an Intensive Training Centre there in 2009.
"To have been here since then and watch the squad develop, the pool develop – it makes me really proud to be a part of it," he said.
"I've always loved this place – it's home for me – but now, with the refurbishment and the technology, it has been taken to the next level.
"I think we can compete with any centre in the world and hopefully these upgrades will give us the edge when it comes to the really close finishes, finding those hundredths of a second."
As well as a training venue for British Swimming, Pentathlon GB, five student clubs and nine community clubs, the pool is also open seven days a week to the public.
It is visited approximately 310,000 times a year on average, meaning that – during the course of the pool's guaranteed 20-year life span – it will be used on 6.2million occasions.
"That is the London 2012 Legacy in its truest form," said Baddeley.
"At a time when swimming participation in general is declining, it is heartening to see that so many people – from Olympians like Michael Jamieson through to recreational swimmers – are benefiting from these world-class facilities.
"The refurbishment work has ensured we will continue to provide an outstanding service not only to our elite athletes but also to students and the public for many years to come."
Jamieson added: "Hopefully over the next few months and years, particularly with the pool we have here, we will see more people from the Bath area coming to use this world-class facility."
People can have a free dip in the London 2012 Legacy Pool – and race against Olympian Stacey Tadd – during the Team Bath Community Activity Day, taking place from 12-4pm on Saturday, June 20. Click here for more information.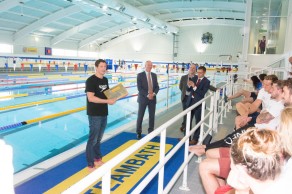 For further information and hi-res pictures from the official opening, please contact the Team Bath press office at Matchtight Ltd on 01225 383518 or by email at press@matchtight.co.uk
THE LONDON 2012 LEGACY POOL FACTS AND FIGURES
The London 2012 Legacy Pool is 50m long, 18.2m wide and 2m (6ft 7in) deep throughout. It holds 1,820,000 litres (400,343 gallons) of water.
It replaces the Sports Training Village's previous Olympic-sized pool, which was open from 1996 until September 2014.
The contractors, Ikon Construction, estimate approximately 15,000 man hours went into the pool's refurbishment.
There are 62,500 tiles in the pool area and the new changing room.
The water in the pool is kept at a temperature of 25°C (77°F) and weighs 3,334,857lbs. That is equivalent to 1,301 average family cars.
It took approximately six days to fill the pool through an 80mm hose – it would take nearly 13 days using a regular garden hose.
It would take 1,067,314 minutes to drink the contents of the pool through a straw. That is the equivalent of 17,789 hours or 741 days, so start drinking when the pool officially opened and it would be empty on Monday, June 26, 2017.
It would take 1.9billion £5 notes (or 1,925,925,926 to be precise) to fill the London 2012 Legacy Pool, meaning it would cost £9.6billion (or £9,629,629,628) to swim in cash.
If stood side by side, back to back, 3,638 people could fit in the London 2012 Legacy Pool.
The pool is used by the public approximately 310,000 times a year on average, meaning over the course of the London 2012 Legacy Pool's guaranteed 20-year life it will be visited 6.2million times.
It is home to a British Swimming National Training Centre, as well as the training base for Pentathlon GB whose athletes include Olympic and World Champions Steph Cook, Samantha Murray and Mhairi Spence. Nine community swimming clubs and five student clubs also train in the pool.