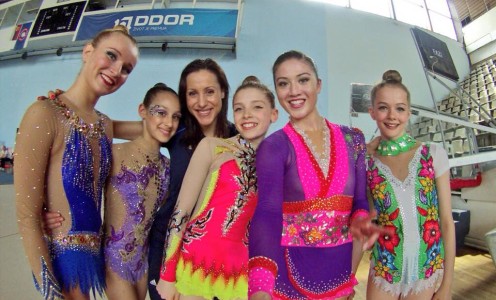 Olympic rhythmic gymnast Lynne Hutchison says she is feeling better and stronger than ever as she prepares to take on some of the sport's biggest names at the World University Games.
The 20-year-old, who trains and coaches at the University of Bath with City of Bath Rhythmic Gymnastics Club, has been named alongside Stephani Sherlock in the Great Britain team for the Games, taking place in Gwangju, South Korea from July 3-14.
She is one of six athletes with University of Bath connections – the others being students Angus Pedersen (badminton), Kristian Callaghan (shooting), Alex Walker (tennis), Jay Lelliott and Thomas Tsiopanis (swimming) – heading to the second-biggest multi-sport event in the world.
Hutchison has already experienced the biggest, the Olympic Games, after being part of the seven-strong Sports Training Village-based British team which famously qualified for London 2012.
She then returned to individual competition and, despite suffering a series of stress fractures in her foot, was able to qualify for last summer's Commonwealth Games in Glasgow.
Having won team bronze in Delhi four years earlier, Hutchison helped England finish fourth overall and was also fifth in the individual ribbon.
"I really wanted to win a medal at the Commonwealths last year but I just missed out," she recalled.
"I just didn't feel ready to finish my career after that but I wasn't sure what I was going to do. Then I realised the World University Games were coming up and I was just starting university.
"I got the selection policy and worked hard to make sure I got picked, so I feel like this is another chance.
"I feel in a much better position than going into the Commonwealth Games. I was coming back from injury, so Glasgow was a struggle.
"Last year I was training just to get by, this year I have been training to improve and it has made a big difference. I have gone up the GB rankings and I got my first-ever score of 15 in March.
"I now have that score on three of the four routines [ribbon, clubs, hoop and ball]. I'd like to get as many 15s as possible in Korea but that means I'll have to do spot-on routines."
Hutchison had the chance to test her routines in competition when she represented Great Britain at an event in Belgrade, Serbia last week, winning clubs gold and silver in both ribbon and overall.
The event also gave Hutchison the chance to see what impact she and her Olympic team-mates had made with their trailblazing London 2012 exploits.
"There were some juniors who travelled with us and it was a first GB international for a lot of them," she explained.
"One of the girls, Hannah Martin, was watching in London and took up the sport after that, now she is one of the brightest young hopes in the country.
"She is only 12 and is already competing at the top end of the junior age group. That's really great to see."
Hutchison will compete at the English Championships in Birmingham on Sunday before heading out to Korea, then she has the British Championships at the Liverpool Echo Arena at the end of July.
Joining Hutchison and Sherlock in Gwangju will be City of Bath head coach Laura Austin.
She is one of three University of Bath-based coaches working with the British team at the Games, the others being Mark Skimming (swimming) and Barry Scollo (tennis).
Lynne Hutchison, second from right, tweeted the above picture from Serbia with (from left) Stephani Sherlock, Christianna Vitanova, coach Eva Balova, Hannah Martin and Eve Baker-Roberts