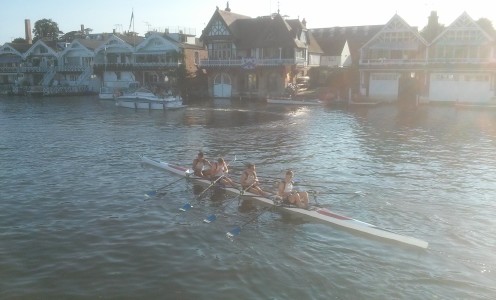 Bath University Bath Club earned the praise of Olympic legend Sir Matthew Pinsent during a memorable day at the Henley Royal Regatta.
Sir Matthew – a Regatta steward – umpired the men's quadruple scull A crew's Prince of Wales Challenge Cup race against a Hamburger und Germania quad from Germany.
And he had a close-quarter view of a well-judged race from Tom Mapp, Alex Wilding, Nick Bell and Ben Jackson, who trailed at the mile mark but maintained their composure and came through to win by two lengths.
Sir Matthew referred to the performance as "excellent sculling" and Bell was delighted with the comment.
"That's really nice to hear," said the Sports & Exercise Science student.
"It was pretty close in the end but we came through. Our approach is to try and maintain the same speed throughout the race and not worry if the opposition get off to a good start.
"We just try to get on the pace and trust in our fitness and strength. That worked out today."
Victory provided a double cause for celebration for Jackson, who graduated from his Sports & Exercise Science course on Wednesday.
"This is the best year Bath has ever had and we are really proud of that," he added.
"To have our two quads qualify for Henley in what is really a strong field is really impressive, especially as it is not just a university event."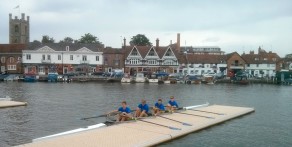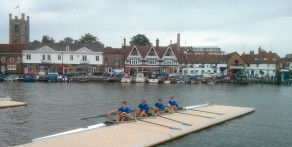 Bath's B crew, also coached by Tony Larkman, had earlier taken on a highly-fancied Leander Club quad featuring Jack Beaumont, who won bronze with the GB quad at the recent European Championships.
The race went as predicted, with Leander claiming a comfortable victory, but Chemistry Masters student Peter Curran was pleased to finally be rowing at the iconic regatta after four years of trying.
"We were up against a really, really tough crew but our main goal for the season was to qualify, so we just enjoyed it," said Curran, who was joined in the boat by Harry Shimmin, Alex Clark and Luke Gwenter.
"Jack won a European bronze medal recently so it is a privilege to race against people like that.
"It was absolutely great to qualify – it is the first time for me, Luke and Alex, and it was my fourth attempt."
Economics student Frazier Christie was also in action after teaming up with fellow U23 World Championships hopefuls Alex Haynes, George Stewart and Tom Barras in a composite Cardiff University and Sir William Borlase's GS quad.
And the crew got their Prince of Wales Challenge Cup campaign off to a solid start, beating London RC by one-and-three-quarter lengths.
"I'm pretty pleased with that," said Christie, who is coached by Dan Harris on the GB Rowing Team Start programme at the Sports Training Village.
"It was quite a strong London crew and they gave a lot, so it's nice to get the win and move on to tomorrow. As the week progresses, it will become more and more of a challenge so it's good to get that level of competition on the first day.
"There are definitely some strong crews in it this year but our aim is to win the competition."
That meant there were nine University of Bath rowers at Henley – a source of great pride to Curran and his colleagues.
"We are the best-represented club in the Prince of Wales, along with Reading, so we are really pleased," he added.
There was a further University of Bath presence at Henley on Thursday as Natural Sciences graduate Adam Freeman-Pask also raced in the Prince of Wales.
Freeman-Pask – a bronze-medallist in the lightweight men's four at the 2013 World Championships – teamed up with GB Rowing Team old boys Dan Ritchie and London 2012 Olympian Tom Solesbury in a Molesey BC and Sir William Borlase's Grammar School composite.
They came up against an Imperial College London and Agecroft RC crew made up of GB lightweights John Hale, Charles Waite-Roberts, Zak Lee-Green and Tim Richards in the first round.
And while youth triumphed over experience by three-quarters of a length, Freeman-Pask was pleased with his crew's performance.
"We are the old boys and they are a GB lightweight crew, so it was quite tasty," he said. "I fancied racing them at the Regatta anyway – that's my level of competition.
"Tom and I bumped into each other in London and came up with the idea of getting a crew together. It's a bit of a mish-mash but it's been a fun project."