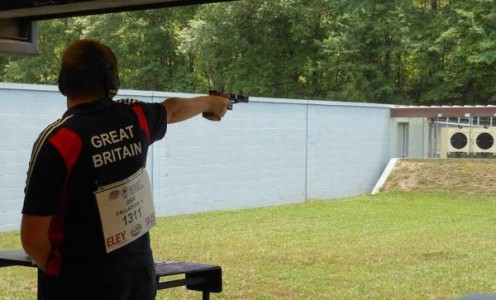 Shooter Kristian Callaghan lies 16th after the first stage of qualifying in the men's 25m rapid-fire pistol competition at the World University Games.
The University of Bath Integrated Mechanical & Electrical Engineering student, a Commonwealth Games bronze-medallist in the event, scored 278 points on Tuesday.
The top six overall after Wednesday's second qualifying round go through to Friday's final, with TASS (Talented Athlete Scholarship Scheme) scholar Callaghan looking to make up an eight-point deficit.
A South Korea team featuring Olympic and World champions unsurprisingly proved too strong for Britain's badminton players, winning 5-0 in the mixed team event.
Chemical Engineering student Angus Pedersen – supported by a Trendell Sports Scholarship and the University's Dual Career programme – did not play in the defeat and now turns his attention to the men's doubles, where he is partnered with Matthew Carder.
Wednesday sees Sports Performance student Jay Lelliott start his bid for a third medal in the pool – his 1,500m freestyle heat takes place at 2.04am BST.
Lelliott, coached by Mark Skimming and supported by a Santander Sports Scholarship, has already won 400m freestyle gold and 800m freestyle silver this week.
Skimming is one of three University of Bath-based coaches working with the British team in Gwangju, the others being Barry Scollo (tennis) and Laura Austin (rhythmic gymnastics).
The World University Games continue until July 14. Find out more about the University of Bath athletes and coaches involved by clicking here.