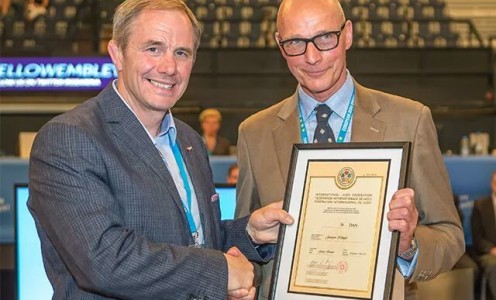 Team Bath head judo coach Juergen Klinger has described his "delight" at being recognised as an integrated judo coach in the UK after receiving a 7. Dan rank.
German Klinger has been at the University of Bath since 2006 and received the award at the British Judo Open last weekend.
Speaking of the award, Klinger said: "I'm delighted to receive the 7. Dan. It is a rank not awarded by assessment so you must be nominated by the British Judo Association.
"The Association are obliged to promote judokers from the UK," 63-year old Klinger added. "So for them to do this for me is fantastic.
"For me it shows that I'm integrated into the system in this country. For a foreigner living in a different country I personally believe it is really important to integrate yourself – you cannot arrive with your own culture in mind – and so to be pushed forward for this Dan by British Judo is really fantastic.
"For me, it is a good feeling."
The award follows further success for Team Bath's judo squad after winning five medals at the Open in the SSE Arena, Wembley.
The final of the women's -70kg category saw two Team Bath judokers go head-to-head with Gemma Howell eventually triumphing to take gold.