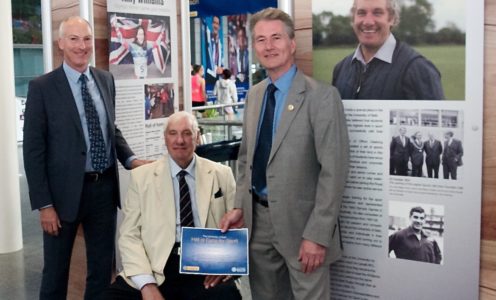 Dr Tom Hudson, the pioneer of sporting scholarships in British universities, today became the fourth inductee into the Team Bath Hall of Fame for Sport.
Hudson, who served in the Director of Sport role at the University of Bath from 1971 to 1992, was a passionate advocate of helping students achieve at the highest level of sport while continuing successfully with their academic studies.
He also represented Great Britain in modern pentathlon at the 1956 Olympic Games in Melbourne and was part of the legendary Bath Rugby coaching team during the club's period of unprecedented success in the 1980s.
An appreciative crowd of family, friends and University staff gathered at the Sports Training Village on Monday to see Hudson join Jason Gardener, Ben Rushgrove (both athletics) and Amy Williams (skeleton) in the Team Bath Hall of Fame for Sport.
He was inducted by Professor Kevin Edge, the former Deputy Vice-Chancellor of the University of Bath, who said that it was "entirely fitting" that Hudson's trailblazing work with sporting scholarships be recognised.
"Early on Tom took the view that it should be possible for students to achieve at the highest level in sport whilst progressing successfully with their academic studies," he said.
"With the help of Office Cleaning Services, he inaugurated a set of sports scholarships – the first of the kind in this country. The approach was a success and soon gathered momentum.
"Generations of students have since benefitted from both individual and corporate support to achieve their dreams. Many have achieved medal-winning status at the highest levels of competition.
"What shone through was Tom's belief in the initiative and the determination to deliver it."
Sporting students at the University of Bath can currently apply for support from five scholarship schemes – the Santander, Jeff Trendell, Bill Whitely, Thompson Education Trust and Kings Scholarships.
Among those to have benefited in the past are London 2012 Olympic medallists Michael Jamieson (swimming) and Samantha Murray (modern pentathlon).
During his time at the University of Bath, Hudson also oversaw the opening of the original sports hall, now known as Founders Hall, and helped to massively expand the sporting opportunities available to students.
In a statement read by his wife, Jan, Hudson said: "In the summer of 1971, along with a few other candidates, I traveled to Bath for an all-day interview for the post of the first Director of Sport and Recreation at the University of Bath
"At 4pm I was told the job was mine – it was one of the best days of my working life and it never disappointed.
"Everyone brought in to what we needed to achieve – academic staff supported teams, travelling with them to away fixtures and giving their expertise when needed.
"Full-time staff were engaged plus 30 part-time coaches and excellent groundstaff. Plus, of course, there was the co-operation and eagerness of the students and their officers.
"For all of these people, some no longer with us, I accept this accolade on their behalf. They all helped to make the University of Bath's sports and recreational departments one of the best in the country.
"Thank you to the present Director of Sport, Stephen Baddeley, and his staff who have made this event possible and to all you who have taken the time to be here today. Sincere thanks to you all."
A former junior and senior runner and swimmer, Hudson played water-polo at county level before joining the Royal Horse Guards where he saw active service in Cyprus.
Hudson began training for the sport of modern pentathlon and represented his country at the 1956 Olympic Games in Melbourne, Australia. He also competed at the World Championships from 1957-59.
He brought his passion and competitive spirit to his role at the University of Bath, supporting clubs and individuals in their quest for improvement and turning out to support student teams from many different sports.
Away from the University, Hudson was fitness coach at Llanelli RFC when, in 1972, they famously became the first club side ever to beat the All Blacks.
He then performed the same role for Bath Rugby during the club's astonishing period of success in the 1980s, forming a famous coaching triumvirate with Jack Rowell and Dave Robson.
Hudson also worked with close personal friend Clive Thomas, the Welsh football referee who officiated at both the 1974 and 1978 World Cup Finals.
They released a book together in 1978, providing a then revolutionary guide to fitness for football referees.
In a speech at Monday's induction, Thomas said: "FIFA later brought in fitness testing for referees and Tom is the fellow who started all that, here at the University of Bath. I always said that Tom was 20 years ahead of his time.
"When I was asked to contribute to this event, I jumped at the chance because Tom really is one of the greatest. When you look up great in the dictionary, it says large, impressive, excellent – they all apply to Tom."
Baddeley thanked all who attended before adding: "As the current Director of Sport, on a personal level, I would like to say how humbled I am to follow someone like Tom. I am very proud to be here with him."
Picture: Dr Tom Hudson, centre, is inducted into the Team Bath Hall of Fame by Director of Sport Stephen Baddeley and Professor Kevin Edge, former Deputy Vice-Chancellor of the University of Bath