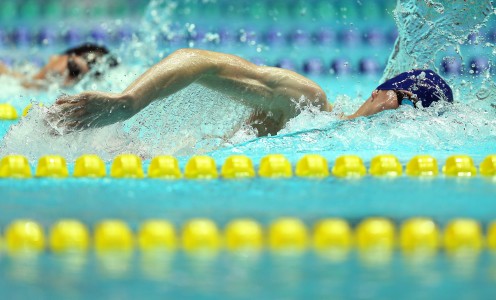 University of Bath swimmers won a host of medals, including six gold, during an impressive week at the British Summer Championships, which took place at the Ponds Forge International Sports Centre in Sheffield.
Pharmacy student Anne Bochmann got the week off to a super start as she led the women's 19yrs+ 200m freestyle final throughout to win gold in 2:00.04. Keynsham SC's Amelia Maughan took silver in 2:00.40.
The following evening saw Sports Performance student Jay Lelliott – fresh from winning gold and silver at the World University Games in Gwangju, South Korea – win the equivalent men's race.
He drew on his long-distance stamina to move through the field and touch the wall first in 1:49.32, with team-mate Lewis Coleman fourth in 1:50.34.
Lelliott's second gold of the week came in the 19yrs+ 200m fly, where he managed to maintain an early lead to claim victory over University of Bath colleague Matthew Johnson in 1:58.03.
"The last 50 metres hurt, I took it out really quickly but that was the plan going into the race," said Lelliott, pictured, a Santander Sports Scholar who also won silver in the 1,500m freestyle.
"I'm going a lot quicker than I was last year. I had such an incredible experience at the World University Games and it has given me a lot of motivation moving forwards."
In the 19yrs+ 200m IM, Coleman saw off a late charge from Millfield's Tristan Slater and Loughborough University's Fraser Minnican to take gold in 2:00.80.
And Integrated Mechanical and Electrical Engineering student Miles Munro got the better of a thrilling 19yrs+ 100m freestyle final, bursting clear in the last 15m to win in a PB of 49.65.
"That was an awesome race," said Munro. "The guys were a little bit ahead of me at the turn but in the back end I gave it everything I had.
"I have taken my PB down by over a second over the past year and I'm really happy to have dipped under the 50 seconds mark – all that training has paid off."
A superb final 50m saw Civil & Architectural Engineering student Alexandra Kaye overtake long-time leader Chloe Hannam to win 400m individual medley gold in a lifetime best of 4:50.65.
"I haven't posted a PB in that event for a while so I am really happy with that performance," she said.
"I wasn't sure if was going to be able to catch Chloe but after the final turn I just gave it everything I had and thankfully it paid off."
Kaye also won a silver medal on the opening night in the women's 19yrs+ 200m IM, as did Johnson in the men's 19yrs+ 400m IM.
Anna Hopkins was runner-up in the women's 19yrs+ 50m freestyle on the last night, pipping Loughborough University's Emma Wilkins to silver by just three-hundredths of a second.
Tilly Gray, who represented England at the Glasgow 2014 Commonwealth Games, won bronze in both the women's 19yrs+ 100m and 200m butterfly.
In the para-swimming events, Aquae Sulis Performance Swimming Club's Stephanie Millward and Aaron Moores won three medals between them.
Moores took silver in both the men's MC 100m breaststroke and 100m backstroke.
Millward won silver in the MC 400m freestyle and was also fourth in the 100m freestyle and fifth in the 100m backstroke.