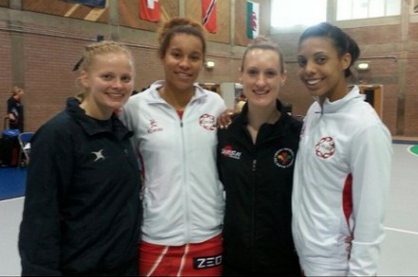 Team Bath Netball players Stacey Francis and Claire Brownie will go from team-mates to opponents on Friday when England and Scotland get their 2015 Netball World Cup campaigns under way in Sydney, Australia.
The Roses and the Thistles meet in the opening match in Pool B, which will be shown live on Sky Sports 3 HD and Sky One from 5.40am BST.
Goal-defence Francis will be looking to help England make their traditionally good start to the tournament, while wing-defence Brownie is vice-captain of a Scotland team making their first World Cup appearance since 2007.
The countries have already met at the Netball Europe Open this year, with England recording a 60-16 victory.
Francis, who won her 50th cap during that tournament, is one of eight players in the England squad with Team Bath Netball links.
Also included are University of Bath alumni Sara Bayman, Eboni Beckford Chambers, Rachel Dunn, Tamsin Greenway and Serena Guthrie.
And former Team Bath Netball players Geva Mentor and Pamela Cookey will serve as captain and vice-captain respectively in Australia.
Mentor is determined to get off to a good start, saying: "I think it's important for us to set the tone, not only for the other teams that are out there but for ourselves.
"There are obviously a lot of nerves – it's a World Cup. It's really important for us and everyone has got the belief.
"For us to hit this game is about getting what we want out of it. Making sure we are nice and consistent, making sure we have fun out there and putting out a performance that we want to take all the way through the World Cup."
England will also face Jamaica on Saturday (8.20am BST) and Samoa on Sunday (7.20am BST), while Scotland take on Samoa on Saturday and Jamaica on Monday (10.20am BST).
Team Bath Netball centre Kyra Jones is part of the Wales squad who start their World Cup Pool D campaign against Fiji on Friday. They also face Zambia on Sunday and Uganda on Monday.
Pictured are Claire Brownie, Kyra Jones and Stacey Francis with fellow Team Bath Netball player Sam Cook (second from left) during the Netball Europe Open