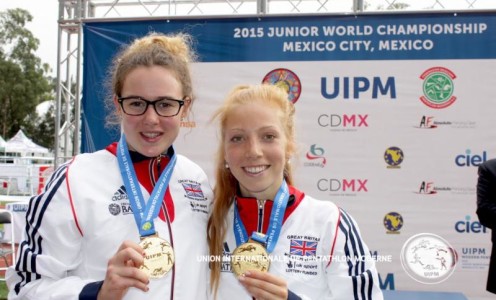 University of Bath student Eilidh Prise teamed up with individual champion Francesca Summers to win women's relay gold at the Modern Pentathlon Junior World Championships in Mexico City.
The Pentathlon GB duo started Saturday's competition with a solid swim, with a time of 2:13.05 putting them eighth out of the 12 teams
An impressive 27 wins in fencing – the best performance of the day – moved them up the rankings and they went into the combined event in fourth following two knockdowns and eight time penalties in the ride.
That meant they started 23 seconds behind leaders Russia but a brilliant performance by Prise saw her overtake all three nations in front of her in the first 800m.
Quick and accurate shooting allowed her to hand over a lead of around ten seconds to Summers, who was briefly overtaken by Russia with 150m to go.
However, as when she won the individual women's title on Thursday, Summers was able to put in another burst and secure her second gold medal of the championships.
Prise, a Bill Whiteley Sports Scholar and Dual Career athlete, moved to the University of Bath last September to begin a Mathematics degree and train with Pentathlon GB.
"Thank you to everyone who helped me this year," said Prise.
"It's been challenging with a move to the University of Bath, starting a degree and joining the team at the National Traning Centre but everything has come together for this championships.
"We had a great day today and worked really well together as a team – I'm really excited to see what next season holds for us."
Summers, Prise and Sociology student Georgia Pipes won silver medals in the women's team event on Thursday.
Pipes teamed up with Tommy Lees to finish fifth in the mixed relay on Sunday, narrowly missing out on a medal in the combined run/shoot.
Lees and Sports Performance student Luke Tasker were seventh in the men's relay on Friday.
Pentathlon GB's thoughts now turn to the senior European Championships, taking place at the University of Bath from August 18-23.
Summers will be in an eight-strong British team taking on the best all-round athletes on the continent.
Not only it is a home championships for Pentathlon GB's athletes but it is also a Rio 2016 qualifier, with eight Olympic qualification places to be won in both the men's and women's competitions.
Ticket prices start at just £6 for adults and £1 for under-18s. Go to pentathlongb.org/euros2015 to buy tickets or for more information.