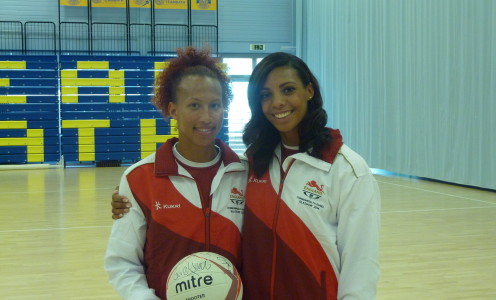 Team Bath Netball's Stacey Francis helped England get their Netball World Cup campaign back on track with a comprehensive 78-33 victory over Wales in Sydney on Wednesday.
Francis produced some eye-catching interceptions after coming on for the second half with England – looking to get Tuesday's loss to Australia out of their system – leading 42-16 after two dominant quarters.
They started by scoring nine unanswered points and, with former Team Bath player Serena Guthrie again playing a pivotal role in centre court, remained ruthless throughout as they kept their semi-final ambitions alive.
Francis replaced Guthrie at wing-defence for the third quarter and it didn't take long for her to make an impact as she claimed an athletic intercept, the first of her six during the game.
Former Team Bath players Pamela Cookey and Rachel Dunn came into attack and continued to find the net with regularity as England extended their lead to 60-26.
One final change was made for the final 15 minutes, with Guthrie returning to WD and Francis reverting to GD.
The two players then seemed to have their own personal battle for most awe-inspiring intercept.
Guthrie threw her hat into the ring with a 360 degree twirl and release following her steal; Francis responded with a huge leap and feed off one foot shortly afterwards. Both brought massive cheers from the bench and the England following in the stands.
Team Bath's Kyra Jones played the full 60 minutes for Wales at centre and provided six goal assists and 29 feeds.
England now face a winner-takes-all match against South Africa on Friday (7.20am BST), while Wales wrap up their Pool F fixtures against defending champions Australia later that day (11.20am).
Meanwhile, Claire Brownie again played a key role as Scotland guaranteed a top-12 finish with a 59-27 win over Sri Lanka in Pool H.
The Team Bath netballer came off the bench just before half-time with Scotland – who had beaten Barbados 37-34 in their opening 'second eight' match – leading 25-11.
She played at wing-defence during a third quarter which Scotland won 15-9, then moved to centre for the final period and provided nine assists as the Thistles wrapped up a good win.
They will now play Fiji, who have also won their two Pool H matches so far, to decide who will top the group. That match takes place at 9.20am BST on Thursday.
Pictured: Serena Guthrie and Stacey Francis had their own interception competition against Wales