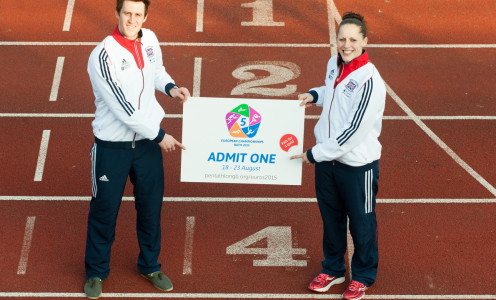 Double Olympian Nick Woodbridge is hoping for more home success when the University of Bath hosts the Modern Pentathlon European Championships next week.
Woodbridge – pictured promoting ticket sales for the Europeans – is the most experienced member of the Pentathlon GB men's squad for the continental competition, which runs from August 18-23 and is a qualifying event for the Rio 2016 Olympic Games.
During his 11-year senior international career, he has competed on home soil ten times and has placed in the top 20 on eight occasions.
That includes the London 2012 Olympic Games where Woodbridge was tenth, a year after he had won a bronze medal when the capital hosted the 2011 World Cup Final.
Woodbridge also took part in the last two pentathlon events staged at the Sports Training Village, the Bath International Competitions in 2005 and 2009 when he finished 15th and eighth respectively.
The European Championships are on a much bigger scale, with more than 100 of the continent's top all-round athletes taking part, but Woodbridge believes that competing in familiar surroundings – roared on by the home fans – will benefit the British athletes.
"I compete well at almost every home event and hopefully that will continue," said Woodbridge, who will be joined in the men's squad by Jamie Cooke plus University of Bath students Joe Choong and Tom Toolis.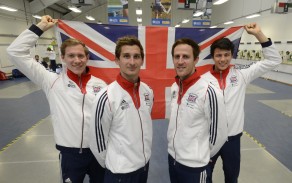 "It makes a massive difference when you are at home. You are so much more relaxed, you have family and friends around you – it just feels completely different on competition day.
"It's quite hard to explain. When I'm abroad I get quite nervous and stressed about the competition – the travel, worrying about kit – but when I'm at home I am so much more relaxed.
"You know you have everything here. If you have any equipment issues you know where to go, you know the physios and doctors are on hand – it's so much more relaxing because of all those little things. Having all that support around you plus your family and friends is nice.
"To have a major international competition here in Bath will be amazing. I don't know why we haven't had something like that here before – the facilities are amazing.
"It should be a memorable competition and I'm looking forward to the whole thing."
The European Championships get under way on Tuesday with the mixed relay, followed by the men's and women's relays on Wednesday.
The men's qualifier featuring Woodbridge, Choong, Cooke and Toolis takes place on Thursday, with the final on Saturday.
The women's qualifier is on Friday, with the championships concluding with their final on Sunday.
Tickets for the Modern Pentathlon European Championships start at just £6 for adults and £1 for under-18s.
To purchase them or for more information, visit http://www.pentathlongb.org/euros2015/