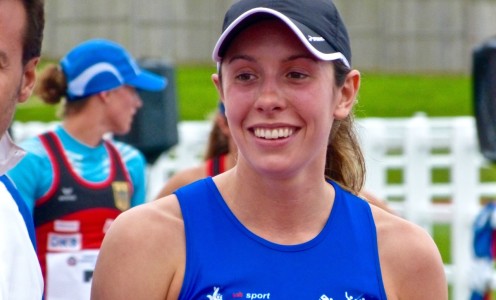 Fellow athletes, family, friends and University of Bath staff turned out in force to cheer a full complement of Pentathlon GB athletes into the women's final of the Modern Pentathlon European Championships.
Graduates Samantha Murray, Kate French and Freyja Prentice all successfully came through their qualifying rounds on Friday, as did newly-crowned World Junior Champion Francesca Summers.
They were roared on all the way by another good crowd at the Sports Training Village and can expect even louder backing over the finals weekend, with tickets for the swimming and fencing on both days having sold out.
Olympic silver-medallist Murray, who was supported by a Santander Sports Scholarship during her Politics & French studies, said: "It is really cool to have the home crowds here, I really appreciate their support."
Among those providing vocal backing were athletes from the British Bobsleigh & Skeleton Association which, like Pentathlon GB, has its national performance centre at the Sports Training Village.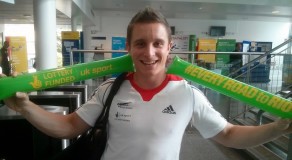 World Cup skeleton slider David Swift said: "We have been going to watch the fencing and swimming in between our training sessions.
"We train alongside the pentathletes in the gym and see them around the Sport Training Village, so it's been great to be able to support our fellow athletes.
"I suppose it is quite similar to us I suppose in that the pentathletes don't normally get to compete in front of a home crowd, so it's nice to support them when we can. It's always good when you see friendly faces in the crowd."
Swift has trained at the University of Bath for the past nine years and has been blown away by how the facilities have been adapted for the Europeans.
"When I got here at the start of the week I couldn't believe what they had done out there with the show-jumping arena," he said.
"It is really impressive and it's great to have such a major sporting event here."
Families are also taking the chance to cheer on their loved ones, with Summers – who won the World Junior Championships in Mexico City earlier this month – being supported by her grandparents, parents and sisters.
Sisters Charlotte and Georgina are pentathletes themselves and are in the Pentathlon GB Youth squad which is flying out to compete in Argentina next week.
"It's inspirational to be watching our sister compete at the European Championships," said Charlotte.
"We didn't see her when she won the Junior World Championships in Mexico so it's great to be able to watch here.
"I'm so excited to be going to Argentina. It's good to see that our hard training has paid off."
Georgina added: "Watching Frankie shows that we've got this to look forward to."
Grandmother Rosemary Williamson travelled from Pyrford in Surrey to cheer on Summers as she qualified from a group boasting the reigning Olympic and World Champions, Lithuania's Lena Asadauskaite and Germany's Lena Schoneborn.
"I'm thrilled to be here to support my granddaughter," she said. "The venue is fantastic, I love the city and hope the British team do well."
Kim Myatt's son James, a University of Bath Business Administration graduate, finished fourth in the men's team relay with Sam Curry on Wednesday.
"I wanted to come and support the girls today," she said. "I'm here all weekend too and we have strong medal chances, so I'll be cheering loudly!"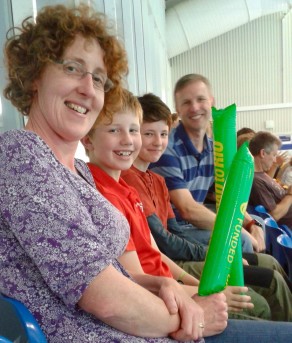 The Manners-Bell family – Sara, John and sons Nicholas (12) and Jonty (9) – from Brinkworth did not have any relatives taking part but do know one competitor well.
"We came down to cheer on Sam Murray," Sara said. "She's helped out with coaching Jonty in his fencing and as we're local-ish we thought it would be a great event to come and see.
"Jonty and Nicholas are both into running and swimming so we thought today would be inspirational for them.
"Jonty represented GB in the Biathle World Championships last year in Pisa and won gold so he could be a pentathlete of the future to look out for!"
Modern pentathlon fan Nigel Dean travelled from Fareham in Hampshire to cheer on the British team and has been impressed by the Sports Training Village.
"I've followed the sport since the Athens Olympics in 2004 and also went to Beijing and London," he said.
"I like this venue and find the disabled access is good and people very helpful."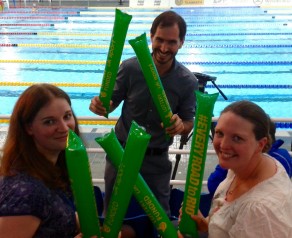 University of Bath staff have also been taking the opportunity to enjoy some world-class sport in their workplace.
Research Development Manager Laura Wisby, who was joined by colleagues Gill Overend and Ben Hutchinson, said: "We thought we'd pop over in our lunch break and support the athletes.
"We've not been to a pentathlon event before and it was good fun cheering on the swimmers."
The action really heats up over the weekend, with eight Olympic qualification places available in both the men's and women's finals.
The men are the first to go for glory, with Pentathlon GB represented by Jamie Cooke – ranked third in Thursday's qualifiers – and University of Bath students Joe Choong and Tom Toolis.