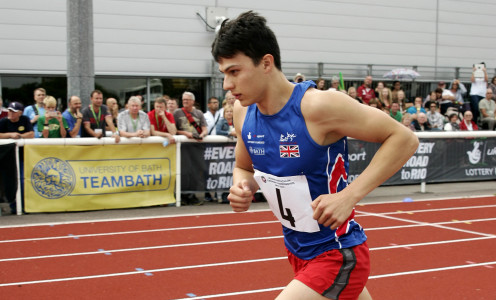 University of Bath student Joe Choong produced the performance of his career in front of a sell-out home crowd at the Modern Pentathlon European Championships to secure a coveted Rio 2016 Olympic Games qualification place.
The Mathematics student, supported by an Ivor Powell Scholarship, was roared down the home straight at a packed Sports Training Village to finish seventh in the men's final on Saturday.
That secured one of the eight Olympic qualification places up for grabs and Choong was thrilled with his achievement.
"It's the best feeling ever," he said. "It's what I've been trying to do for four years now and to have finally done it is just amazing.
"It was definitely a home advantage, I could hear the crowd screaming as I came around the last lap and I thought there's no way these guys are going past me now."
Choong went into the combined run/shoot in fourth place after impressive performances in the London 2012 Legacy Pool and the show-jumping arena.
He had dropped out of the qualification places going into the last of the four circuits but produced a flying final lap to secure seventh place.
"I can't manage the same pace as these guys for four runs but I can do a decent one lap, so I was waiting for that and it worked," Choong said.
"I didn't have a weak discipline today and that's what makes the difference."
Jan Bartu, Performance Director with Pentathlon GB, was delighted with Choong's performance.
"It's more than we expected from him," said Bartu. "He had a fantastic day, well balanced, and he showed maturity because in this combined event, top athletes are running better than him but he managed tactically to outsmart many of them and stole that seventh place.
"There is still a long way to go to the Games but I think he's got maximum potential. Stay healthy and focused and hopefully it is going to work for him."
Team-mate Jamie Cooke won the swim in a rapid time of 1:56.16 and produced a clean jump in the riding to go into the combined run/shoot in second place.
He was still well placed going into the last lap but got run out of it in the home straight and finished tenth, just one place outside the Olympic qualification slots.
Sports & Exercise Science student Tom Toolis finished 20th overall in a competition won by Ireland's Arthur Lanigan-O'Keeffe. Silver went to France's Valentin Prades and Italy's Riccardo De Luca won bronze.
It is the women's turn to go for glory on Sunday, with Pentathlon GB boasting a full complement of finalists.
London 2012 Olympic silver-medallist Samantha Murray is one of three University of Bath graduates competing at the ultimate home event.
She has already set the Rio 2016 qualifying standard but is ambitious to add the European title to the World crown she won in 2014.
Among her main rivals are current World Champion Lena Schoneborn of Germany and Lithuania's Laura Asadauskaite, who beat Murray to Olympic gold three years ago.
They also finished ahead of Murray in Friday's qualifiers but the former Santander Sports Scholar was not overly concerned.
"Semi-finals are strange events, sometimes you struggle to tap into what you are trying to do," she said.
"I felt a bit out of focus in the fencing but it is good to have that experience and have something to think about for the final, you don't want it to be easy.
"It is really cool to have the home crowds here, I really appreciate their support. I've got my family and friends coming down on Sunday, it is going to be special."
Biology graduate Frejya Prentice had a protective boot on her foot just five weeks ago to protect a bone stress in her tibia but now has a shot at Olympic qualification.
"I didn't think I would even be here, so I have to take confidence from the fact I am in the final," she said.
"It has been a case of get fit or die trying over the past few weeks, so anything else from here is a bonus.
"But I am very competitive by nature and it is hard for me to settle for something I wouldn't normally be happy with."
Sports Performance graduate Kate French enjoyed some consistent performances as she progressed through Friday's qualifiers.
"I felt quite comfortable, it was a good day," she said. "I can relax a bit now but obviously there is a lot to play for on Sunday. I'm not just aiming for a medal, I'm aiming for Olympic qualification.
"I'm really enjoying competing at home. I love it here in Bath, they are such great facilities, and it is so nice having people cheering us as well. It definitely spurs us on."
Completing the Pentathlon GB quartet is Francesca Summers, who followed up her recent World Junior Championships success in Mexico City by coming through a tough qualifying group featuring Murray, Schoneborn and Asadauskaite.
"There is no pressure on me going into the final – I'm the youngest competitor so I will go out, have fun and see where that gets me," said the 19-year-old.
"Whatever happens, it will be good experience."
Sunday's final gets under way with the swimming at 8.30am. The final medals of the championships will be presented around 6pm.