University of Bath-based athlete Eilidh Child finished sixth in the women's 400m hurdles final at the IAAF World Athletics Championships in Beijing.
Danny Talbot ran a new personal best in a 200m semi-final won by Usain Bolt and fellow graduate Lawrence Clarke secured his place in the 110m hurdles semis.
Child, coached by Malcolm Arnold at the Sports Training Village, ran a solid race but stuttered coming around the top bend and lost ground.
She went on to cross the line in 54.78, quicker than her semi-final time. Gold went to defending champion Zuzana Hejnova of the Czech Republic in a world-leading time of 53.50.
Child told the BBC: "Obviously it is a great achievement to be sixth in the world but I feel like I should have got a medal, I was a bit messy over the hurdles.
"I feel like I have let myself down a bit but it is a good thing that I am disappointed with being sixth in the world. I will take this as motivation into the winter ahead of the Olympics next year."
By contrast, sprinter Talbot – coached by Dan Cossins – was delighted with his performance in the 200m semi-finals.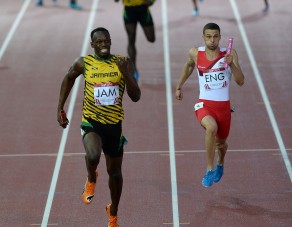 With defending champion and world-record holder Bolt in the lane next to him, Talbot got off to a strong start and went on to finish sixth in 20.27 – slicing three-hundredths of a second off his personal best.
"When you come to a championships, you can only hope to perform your best," said the Sports Performance graduate.
"I've ran my first and third fastest times ever this week so I cannot complain.
"I have worked very hard on my starts this year and it's nice to have transferred that into a race."
Both Talbot and Child are likely to be involved in the relays this weekend, with the latter part of the women's 4x400m relay squad along with University of Bath graduate Kirsten McAslan.
Clarke – who, like Child, is coached by Arnold – booked his place in the 110m hurdles semi-finals by qualifying as a fastest loser from Wednesday's heats.
He ran 13.61 to finish fifth in a heat won by London 2012 Olympic champion Aries Merritt.
Clarke goes in the third semi-final at 12.23pm BST on Thursday.