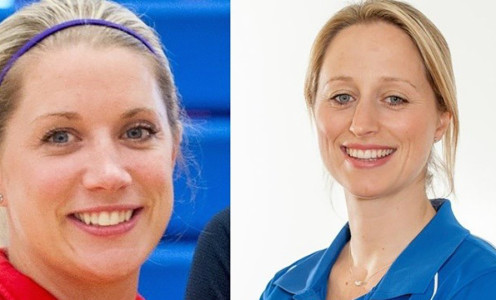 Anna Mayes (now Anna Stembridge) and Jess Thirlby are set to reunite in a strong coaching line-up announced today by Team Bath Netball's 2015-2016 Vitality Superleague franchise.
Stembridge joins the Carter Jonas-backed University of Bath-based franchise as Head Coach whilst Thirlby steps into the role of Director of Netball.
The duo will form the main coaching team, with Thirlby (pictured, right) appearing on the bench alongside Mayes (left) on match days. Other technical and guest coaches will contribute to the programme throughout the season.
Stembridge, England coach from 2011-2015, and Thirlby, one of the Superleague's most successful coaches, are rekindling the title-winning coaching partnership they had both with England U21 and previously at Team Bath, the franchise for the West and South West, from 2008-2010.
Stembridge (nee Mayes) and Thirlby (nee Garland) were internationals themselves with Wales and England respectively and both played at Team Bath before developing into two of the world's top coaches under the guidance and mentoring of Lyn Gunson, former Kiwi captain and then coach. Gunson was recently inducted into the University of Bath's Hall of Fame for her work both with Team Bath and England.
"The inclusion of Anna is a significant boost to the franchise and sends out a message about our ambitions in the coming seasons", said Stephen Baddeley, Director of Sport at the University.
"Anna and Jess are a proven team who can get the best out of established players as well as developing emerging players into future stars."
Thirlby said: "I am ecstatic to welcome Anna back to Team Bath. Whilst I've coached with Anna before and we have both coached internationally at every level, this is not a case of looking back.  We are moving into a new era as a sport and as a franchise and with all of the knowledge that we have accumulated globally we can make a big leap forward.
"The dynamic between us as a partnership has always been one of mutual respect but also one in which we continually challenge each other to the benefit of the players."
Stembridge added: "I am, and always will be, extremely passionate about coaching netball and leading a high performance team.
"I am delighted to accept the role as Head Coach at Team Bath and I am really looking forward to working closely with Jess and this talented group of athletes.
"I strongly believe that Team Bath is the right environment and has the perfect ingredients to achieve our ambitions in the coming seasons."
Until recently, Stembridge – who will continue to work at Cardiff Metropolitan University as Senior Lecturer in Sports Coaching & Sport Psychology – was England coach.
In that role she took the England team to new heights as they whitewashed Australia for the first time in history in 2013 and, at the 2014 Commonwealth Games, narrowly lost by a goal to both Australia and New Zealand, in the pool and semi-final matches respectively.
She also oversaw an October 2014 victory in New Zealand – only the fifth-ever win for England against the Silver Ferns and just the second in New Zealand.
Stembridge and Thirlby will oversee one of the most comprehensive pre-season programmes in recent years at Team Bath.
Team Bath will host a Tri-Series tournament at the University of Bath Sports Training Village against Superleague champions Surrey Storm and Hertfordshire Mavericks on November 14. More information will appear soon at www.teambath.com/netball about how to make sure you get a ticket to watch the nation's leading players in action.
Fixtures for the 2016 Superleague will be announced on October 23rd and will include exciting news about Team Bath's opening match on January 30th.
Team Bath's long squad will be announced in mid-October and there looks set to be a charity match in Bristol in December.  The team will also be travelling around the region for workshops and "netball experience" days.
If you would like to be involved as a volunteer on match days or in other roles throughout the season, then please contact the netball office via netball@bath.ac.uk