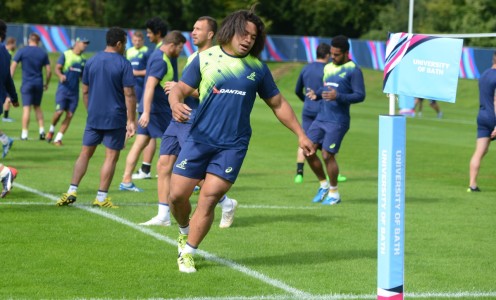 Captain Stephen Moore has praised the "terrific facilities" at the University of Bath after two-time Rugby World Cup winners Australia staged their first training session at the Team Base on Tuesday.
The Wallabies, led by Head Coach Michael Cheika, were put through their paces on one of the Sports Training Village's outstanding outdoor pitches in the morning.
Star names such as full-back Israel Falou, winger Matt Giteau and flankers David Pocock and Michael Hooper then returned in the afternoon to train indoors in the STV's world-class gym and sports hall, as well as make use of the physio and sports science facilities.
The University of Bath is proud to be the official Team Base for Australia as they prepare for their opening Rugby World Cup Pool A matches against Fiji and Uruguay, taking place on September 23 and 27 respectively.
Captain Moore said: "We'd like to thank you all for the warm welcome. We've only been here for a day and we've already been made to feel very welcome. The University of Bath is a wonderful Team Base and has terrific facilities."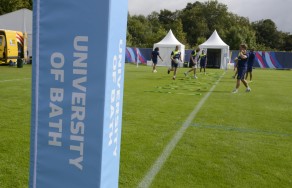 England and Wales also await the Wallabies, who are currently ranked second in the world after winning the Rugby Championship for the first time in four years.
University of Bath rugby coaches Rob Webber and Dominic Day, who play for Bath Rugby, are in the England and Wales Rugby World Cup squads respectively.
The arrival of the Australia squad coincided with the first day of a major World Rugby conference at the University of Bath, focusing on injury prevention in the sport.
Among the speakers were a number of world experts in areas such as nutrition, player load monitoring, biomechanics and concussion.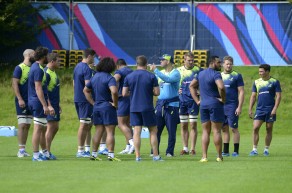 Former Bath Rugby player Danny Grewcock, who won the Rugby World Cup with England in 2003, also spoke about developing youth players. He is currently Director of the Bath Rugby Academy, which has strong links to the University of Bath.
Day two of the Conference of the World Rugby Science Network is taking place at the University of Cape Town in South Africa on Wednesday and is being live-streamed. For more information, visit http://www.bath.ac.uk/research/news/2015/09/14/rugby-science-conference/
For more pictures of Australia at the Sports Training Village, check out our Facebook page