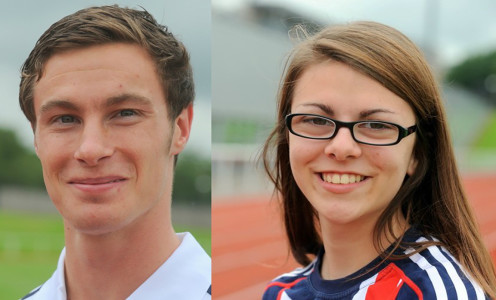 University of Bath-based athletes Paul Blake and Sophie Kamlish have been named in a 48-strong British Athletics team for next month's IPC World Championships in Doha.
Blake has won gold medals at the last two championships – in New Zealand in 2011, where he took the T36 400m title, and in France in 2013 where he produced a stunning performance to take the 800m crown.
The double Paralympic medallist will once again compete over both distances when the latest championships take place from October 22-31.
Blake is coached by Rob Ellchuk at the Sports Training Village, as is Kamlish who has been selected in the T44 100m after another impressive season.
The 19-year-old, who won 200m bronze at the 2013 World Championships, set a new 100m personal best of 13.45 in July – the third quickest time in the world this year.
British Athletics Paralympic Head Coach Paula Dunn said: "It's a really exciting team heading out to Doha for the IPC Athletics World Championships. We've got a real mix of athletes who have won medals on the global stage as well as a number of new faces, which is really encouraging looking ahead to the future.
"Doha is a stepping stone for many of the athletes on their respective journeys to Rio 2016, London 2017 and Tokyo 2020. I know the team will leave no stone unturned to deliver the sort of performances that we witnessed in Lyon two years ago."