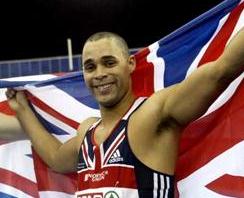 Former University of Bath sprinter Jason Gardener will become the next President of UK Athletics, it was confirmed on Monday.
The Bath Bullet, who won 4x100m relay gold at the Athens 2004 Olympic Games while coached by Malcolm Arnold, will take over from Lynn Davies – the 1964 Olympic long jump champion – following UK Athletics' AGM on December 4.
Lawrence Clarke, part of Arnold's current training group at the Sports Training Village, has also been nominated to become an Athlete Representative on the UK Members Council.
Gardener, currently a director on the UK Athletics Board – a position he will relinquish when he becomes President – has confirmed he is honoured to accept the role and paid tribute to the outgoing Davies for his service to the sport.
"I am extremely honoured to be offered this role but more importantly to follow in the footsteps of Lynn, who has served the sport in exemplary fashion over the years," said Gardener.
"This is an exciting time for our sport as we build towards the Rio 2016 Olympic and Paralympic Games and our own London World Athletics Championships in 2017, and it is essential that the UK Members Council continues to represent the sport's interests and ensure the accountability of UK Athletics.
"I am incredibly fortunate to have been able to wear the British vest on so many occasions and now to be able to serve athletics in this way – I really am delighted."
Davies added: "I am delighted that Jason Gardener will be taking over from me as President of UK Athletics. With his competitive background in the sport as an Olympic Champion, coupled with his engaging personality and his experience as a Board member of UK Athletics, he possesses all the qualities required to be a successful President.
"On behalf of everyone in our sport I congratulate him on his appointment and wish him all the best in his new role."
On his nomination, Clarke – who recently graduated with a Masters degree in Management at the University of Bath – said: "I feel privileged to be able to represent the views and opinions of the athletes who make up the British team.
"I'm keen to make sure the sport's future is positively shaped for and by athletes across the Olympic and Paralympic performance programmes.
"I'm immensely grateful to the Council for appointing me to a role that I hope will have a positive effect on the sport as a whole, from the grassroots to the podium."