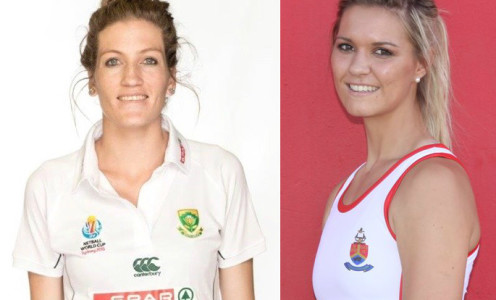 Two South Africans who played starring roles at the 2015 Netball World Cup have joined Team Bath Netball for the 2016 Vitality Superleague season.
Karla Mostert (left), who plays at goal-defence or wing-defence, and goal-shooter Lenize Potgieter (right) join a squad already boosted by the return of England defender Eboni Beckford-Chambers and the arrival of Wales star Chelsea Lewis.
Potgieter – who describes her move to Team Bath as "the chance of a lifetime" – and Mostert become only the second and third overseas imports to wear the famous Blue and Gold, following New Zealand's Bessie Manu who joined 12 months ago.
Mostert was a stand-out performer for South African side Free State Crinums as they won successive Brutal Fruit Premier League titles in 2014 and 2015.
The 25-year-old, who works outside netball as a dietician, made her international debut in 2011 and has 47 caps. She played at both the Glasgow 2014 Commonwealth Games and 2015 Netball World Cup in Australia, where she made the most intercepts (28) as South Africa finished fifth overall.
"I am very happy to receive this opportunity to participate in the 2016 Vitality Netball Superleague season for Team Bath," said Mostert.
"I'm looking forward to this journey and learning as much as I can from the coaching team of Anna Stembridge and Jess Thirlby, plus the world-class players at Team Bath.
"The experience a netball player can gain from a league like this cannot be traded for anything, so for that I am very thankful."
Potgieter only made her international debut against Scotland last year but has been a regular ever since and already has 22 caps.
She featured in every match at the Netball World Cup and scored 298 times, the second-highest total at the tournament. The 22-year-old also had an impressive conversion rate of 89.5 per cent.
Potgieter was part of the Gauteng Jaguars team, based at the University of Pretoria, which narrowly lost in extra-time to Mostert's Crinums side in this year's Brutal Fruit Premier League final.
"I'm really excited to be joining Team Bath – opportunities like this don't come my way too often," said Potgieter.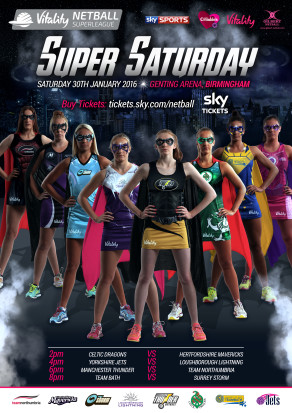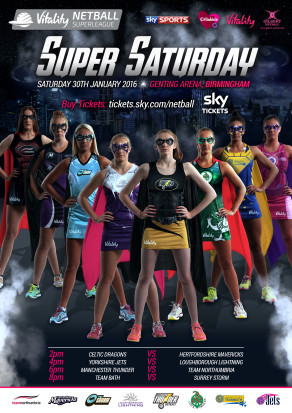 "To be playing in a successful team such as Team Bath and with professional players like Eboni Beckford-Chambers from England and Chelsea Lewis from Wales is a chance of a lifetime.
"I'm also very excited to be coming over with my South African team-mate, Karla Mostert. We can only learn from our new coaches and embrace all the experiences they will give us, and hopefully bring back more knowledge to South Africa to help netball become more competitive, professional and improved."
Team Bath Director of Netball Jess Thirlby said: "It is a massive coup for us to attract two of the best performing athletes in the recent World Cup.
"It is only the second time we have looked to overseas players and we are delighted with the standard and quality of the athletes we have been able to attract. It is a testimony both to the standing of the Team Bath franchise and where it is heading.
"Producing athletes of the calibre of Karla and Lenize is a clear indication of the progression Netball South Africa has made in its world standing and we look forward to having a positive relationship with them."
Team Bath Head Coach Anna Stembridge has first-hand knowledge of how effective Mostert in particular can be following her time with England.
"Karla always posed a real challenge for us internationally, I have always rated her very highly," said Stembridge.
"It didn't surprise me that she produced the most interceptions at the World Cup. I'm looking forward to seeing her bring that talent and tenacity to the Superleague.
"I am also eager to work with Lenize, one of the world's brightest shooting talents and an exciting prospect."
The first opportunity for fans to see Mostert and Potgieter in the Blue and Gold will be next month's eagerly-awaited tri-tournament at the University of Bath also featuring Surrey Storm and Hertfordshire Mavericks, last season's Superleague champions and runners-up respectively.
It is taking place on Saturday, November 14 and three games will be played on the day. Tickets are now on sale priced £10 for adults, £7 concessions and £28 for a family ticket.
Anyone who buys a season ticket for Team Bath's 2016 Vitality Netball Superleague campaign – priced £50 for adults and £35 concessions – before October 23 will receive a half-price discount code for tri-tournament tickets.
Tickets are also now on sale for Team Bath's opening Superleague fixture against Surrey Storm. It is taking place on January 30 at the NEC in Birmingham as part of Super Saturday, in which all eight Superleague franchises play their first match on the same day.
To purchase tickets, visit www.teambath.com/events/ticketline/
Team Bath Netball are backed by Carter Jonas.