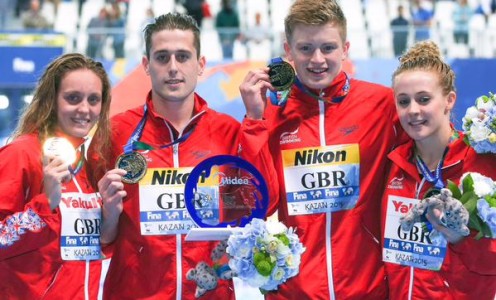 Three World Champions and two University of Bath students are among nine swimmers based at the Sports Training Village to be named in British Swimming's 2016 performance squads.
Sixty-six athletes across Podium (21) and Podium Potential (45) have been selected to the World Class Performance Programme for the 2015/16 season following an extensive selection procedure.
Five members of British Swimming's National Centre Bath training programme will receive Podium level support after being identified as having the potential to medal at the Rio 2016 Olympic Games.
Chris Walker-Hebborn, Siobhan-Marie O'Connor and Sports Performance graduate Calum Jarvis all won relay gold at this year's World Championships.
They are joined in receiving Podium Athlete Personal Award (APA) funding by Jazz Carlin, who won 800m freestyle bronze in Russia, and Chemical Engineering graduate Andrew Willis, who has reached the 200m breaststroke final at every major championship he has contested since 2010.
Podium Potential support marks a longer-term investment by supporting athletes who are considered to have a greater chance of medalling at Tokyo 2020.
Among those selected for funding are National Centre Bath swimmers Charlie Attwood and Joe Hulme. They are coached by Dave McNulty and Graeme Antwhistle.
Also selected are University of Bath students Jay Lelliott and Miles Munro, who are coached by Mark Skimming.
Lelliott, who is taking a year out from his Sports Performance course to concentrate on qualifying for Rio 2016, won gold and silver at this year's World University Games and is supported by a Santander Sports Scholarship.
Integrated Mechanical and Electrical Engineering student Munro is starting his second year at the University of Bath, having capped his first with 19yrs+ 100m freestyle gold at the British Summer Championships.
Athletes selected on to the World Class programmes are eligible to receive advanced training camp and competition opportunities, access to world-class sports science and medicine services, and enhanced support from British Swimming performance staff and National Institute of Sport programmes, as well as targeted financial assistance from UK Sport.
British Swimming National Performance Director Chris Spice said: "This investment in British Swimming's talent is vital in enabling our athletes to pursue their performance goals for 2016 and beyond.
"I'd like to thank UK Sport and the National Lottery for their continued investment. The challenge for us all now is to build on our successes to date in the critical year ahead."
PICTURED: Chris Walker-Hebborn (second left) and Siobhan-Marie O'Connor (right) won World Championship relay gold during the summer