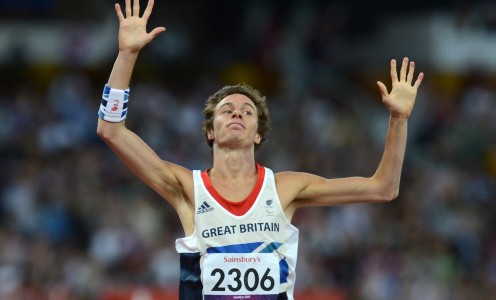 University of Bath-based athlete Paul Blake says he is honoured and surprised to be named alongside Laura Sugar as the British Athletics team captains for the IPC Athletics World Championships in Doha.
Blake, coached by Rob Ellchuk at the Sports Training Village, will be bidding for a third successive world title when the championships take place in the Suhaim Bin Hamad Stadium from October 22-31.
And the 25-year-old, who also won two medals at the London 2012 Paralympic Games, hopes his experience at the very highest level will help his team-mates achieve success.
"If I can keep performing the way I am going and hopefully help some of the other athletes achieve their best, then I will feel like I've done my part," said Blake, who won T36 gold over 400m in 2011 and 800m in 2013. He also has three World Championship silver medals.
"I was waiting at the train station heading to training and [Paralympic Head Coach] Paula Dunn gave me a call [about the captaincy], which was a complete shock. She could have chosen a number of athletes on the team so it was quite an honour for me.
"I've been lucky enough to go to the last two World Championships so I have that experience. For the young guys coming through I can give them advice."
Dunn said: "When choosing the captains, Laura and Paul were two of the standout names and I have no doubt that they will draw on all their experience to inspire a group which has not only a number of global medallists but also a large crop of newcomers.
"It's really exciting to be back on the world stage and Doha marks a real stepping stone on the road to Rio and also the IPC Athletics World Championships in London in two years' time. This will be an opportunity for the athletes to put a real marker down ahead of another busy time for the sport."
The championships will see Blake once again line up against arch-rival Evgenii Shvetcov, who won three golds at London 2012 and four at the following year's IPC World Championships.
"I don't race him much during the season at the Grand Prix events so when I do, it only makes me better," said Blake, who was runner-up to the Russian over 400m in 2013.
"It obviously spurs him on to see me there as well. He is a really tough competitor and I'm still striving to beat him.  It is what motivates me to work hard every day – I want to win the gold."
Blake's 400m semi-finals take place on Thursday (22), with the final at 2.16pm BST on Friday. The 800m semi-finals are on Sunday and the final at 5.04pm GMT on Monday.
Also competing in Doha is Blake's training partner Sophie Kamlish, third-fastest in the world in the T44 100m this year. All of her racing takes place on Thursday, October 29 with the final at 2.14pm GMT.
A live stream will be available throughout the course of the IPC Athletics World Championships at paralympic.org/doha-2015.
More than two hours of live coverage each day will also be available to watch on More4.