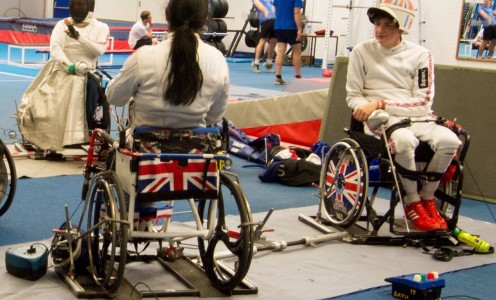 Piers Gilliver will end 2015 ranked as the number one epee wheelchair fencer in the world after a fifth-placed finish at the IWAS World Cup in Paris.
Gilliver, who trains at the University of Bath, finished 22 ranking points clear of his nearest rival, Poland's Dariusz Pender, after a calendar year that saw him win World Cup gold in Eger, Hungary and Pisa, Italy plus the Grand Prix titles in Warsaw and Hong Kong.
He also tops the qualification list for the Rio 2016 Paralympic Games with just five more ranking tournaments to go. The top four fencers on May 31 will earn Rio places but, with second-placed Gang Sun of China having already qualified following his World Championship win last month, a top-five place will likely be good enough.
Gillver won all six of his poule bouts in Paris to go into the knockout stages as the number one seed.
He then recorded an impressive 15-4 victory over Alain Febevre and beat Ukraine's Maksym Mahula 15-3 to reach the last eight, where his run ended with a 15-5 defeat to eventual silver-medallist Maxim Shaburov of Russia.
Gilliver, whose lead coach is Baldip Sahota, also competed in the foil event in Paris and finished sixth, putting him 11th in the overall world rankings for that weapon.
The 21-year-old moved his training base to the Sports Training Village earlier this year after receiving funding from UK Sport's World Class Programme.