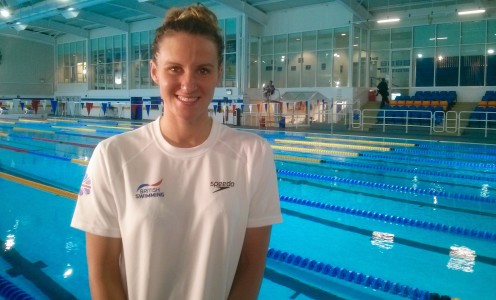 Elite swimmers who train in the University of Bath's London 2012 Legacy Pool will start their countdown to the Rio 2016 Olympic Games at a series of international competitions in the next few weeks.
Jazz Carlin (pictured), Calum Jarvis, Andrew Willis and Jemma Lowe – all coached by Dave McNulty and Graeme Antwhistle at British Swimming's National Centre Bath – are among 22 athletes selected for the FINA World Cups in Doha on November 2-3 and Dubai on November 6-7.
Willis, a University of Bath Chemical Engineering graduate, and Carlin will also represent Britain at the LEN European Short-Course Championships in Israel, taking place from December 2-6.
They will be joined in the 12-strong squad by fellow Bath swimmers Chris Walker-Hebborn and Siobhan-Marie O'Connor.
Willis, Carlin and O'Connor will then jet out to Indianapolis as part of a seven-strong British team taking on the United States in the annual Duel in the Pool on December 11-12.
Bill Furniss, Head Coach of British Swimming, said: "It's an important year ahead with an Olympics as the focus, so this period of preparation is vital in ensuring the athlete prepares well and prepares thoroughly.
"The events over the next two months are the first batch of competitions of the Olympic year and provide a first outing for our athletes. It's not something they will be fully focused on but these events allow us to familiarise ourselves with and practice once again the processes we need to make sure we're ready for next summer.
"We will also be taking a group of athletes to Rio next month for a camp where they can familiarise themselves with the culture and climate ahead of the Games.
"We know we have to move it forward again next year. We had a good World Championships in 2015 but we also know our level of performance has to improve again because Rio will be a sterner test."