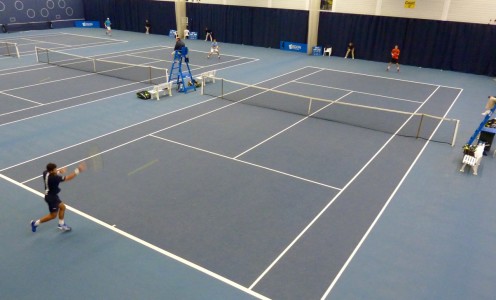 University of Bath tennis ace Emma Hurst will be looking to continue her winning form on home turf when she faces the number two seed in the Aegon GB Pro-Series women's $25k tournament on Wednesday.
And there will also be local interest in the men's singles as Team Bath MCTA's Richard Gabb looks to book his place in the quarter-finals of the $15k competition.
Sport & Exercise Science student Hurst, a 2014-15 Trendell Sport Scholar and Dual Career athlete, has reached the main draw after battling through two exciting qualifying matches at the Sports Training Village this week.
Her reward for Tuesday's battling 7-6(5) 6-3 victory over Mexico's Sabastiani Leon is a round-of-32 meeting with Croatia's Ana Vrljic, the entrant with the second-highest world ranking.
Hurst is on Court 1 after the conclusion of the match between Bulgaria's Dia Evtimova and Team Bath MCTA's Lisa Whybourn. She is in the main draw as a wildcard.
Number one seed Ana Bogdan, of Romania, starts her title challenge against Norway's Melanie Stokke, while Tara Moore, the highest-ranked Brit, faces Belgian teenager Greet Minnen.
The men's $15k tournament reaches the last 16 stage, with Gabb taking on fellow Brit Jonny O'Mara in the afternoon session.
Gabb was involved in a tough match against Belgium's Laurens Verboven on Tuesday (pictured), with the initiative regularly changing hands during the first set, but went on to record a solid 6-4 6-3 victory.
Number one seed Tom Kocevar-Desman of Slovenia needed three sets to get past Germany's Tom Schonenberg – he faces British player Lloyd Glasspool in the afternoon. There is also an all-British match between Luke Bambridge and Joel Cannell.
The women's doubles competition gets under way, with Team Bath MCTA's Whybourn and partner Freya Christie among those in action.
Gabb and Scott Clayton are the number one seeds in the men's doubles, which has reached the quarter-final stages.
In all there are 36 matches scheduled across six courts on Wednesday, with the action getting under way at 10am. Entry is free to spectators.
Play will halt at 11am so that players, officials and fans can observe a two-minute Armistice Day silence.
Live scoring will be available at www.lta.org.uk/agbps and the full order of play can be found at itftennis.com/procircuit, along with the results so far.