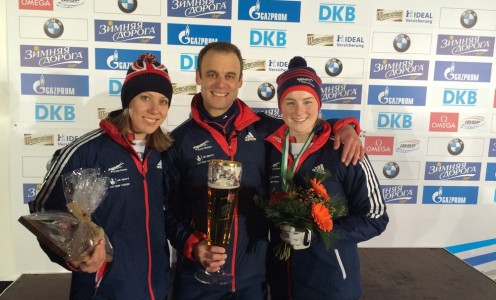 A brilliant gold medal for slider Laura Deas and silver in the four-man bob made for a stunning start to the season for the British Bobsleigh & Skeleton Association athletes based at the University of Bath.
Deas produced a sensational performance in Altenberg, Germany on Friday to pip home slider Tina Hermann to gold in the first BMW IBSF World Cup skeleton race of the 2015-16 season.
"It's a dream start," said Deas, who won by four-hundredths of a second. "Last year was a breakthrough season for me and I've been saying all summer that I just want to kick on and keep improving.
"The feeling of standing on the podium twice last season was something special but to be on top of it this time takes things to another level.
"It's another step forward and it's a big confidence boost for the rest of the year. I've worked so hard with the rest of the squad and the coaching staff over the summer and to see it all come together on the first race of the season is just brilliant.
"It was pretty nerve-racking waiting for the leader from the first run to finish and it was an amazing feeling when I saw the clock. Winning a race at the top level for my country is something I've dreamt about for a long time and I can't stop smiling!"
Donna Creighton was 11th, while the men's race on Saturday saw University of Bath Mechanical Engineering PhD student Dom Parsons – a Dual Career athlete – finished a solid ninth.
Ed Smith, who had two hip operations in the summer, was 17th and reigning Intercontinental Cup Champion David Swift narrowly missed out on a second run as he finished 21st overall.
Sunday's four-man bobsleigh race took place in challenging conditions but Lamin Deen – in his debut at the notoriously tricky Altenberg track – guided Joel Fearon, John Baines and Andrew Matthews to an impressive sixth place.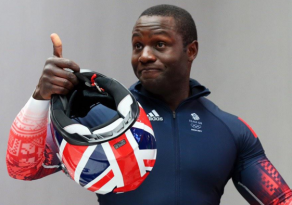 "Having never driven that track before, to have a top-ten finish came as a bit of a surprise," admitted Deen, who also finished 14th with fellow Olympian Fearon in the two-man bob.
"It was very challenging just learning the track – when we were there two weeks earlier for training, the track was very different – so it was a steep learning curve.
"We've got a brand new crew and we've never all raced together and we're just trying to gel. We saw a few problems in the first heat and we identified those, ironed them out and dropped our start time by eight hundredths of a second.
"We're all friends and I know what these guys have got. We're taking each race as it comes but we're hoping good things are in store for us over the next few weeks."
The all-junior crew of Sports Performance student and Santander Sports Scholar Olly Biddulph, Justin Oro-Campos, Ashley Watson and Judah Simpson also completed two runs in Altenberg, finishing 18th overall.
There were further encouraging signs on the European Cup circuit in Winterberg where John Jackson marked his return from serious injury by winning silver after a superb drive alongside Bruce Tasker, Ben Simons and Brad Hall.
Four men's crews were in action in the two-man competition over the weekend, with Mark Lewis-Francis – a Summer Olympic relay champion – finishing eighth on his competitive debut alongside Tasker.
"It's obviously very different to athletics but the feeling you get in terms of representing your country and the sense of satisfaction you get from doing it well is exactly the same," said Lewis-Francis.
"I said when I started the sport that I wasn't just here to make up the numbers and that I knew I needed to prove myself to the rest of the squad. This is definitely a step in the right direction."
Mica McNeill and Aleasha Kiddle were a fine sixth in the women's two-man bob on Saturday.