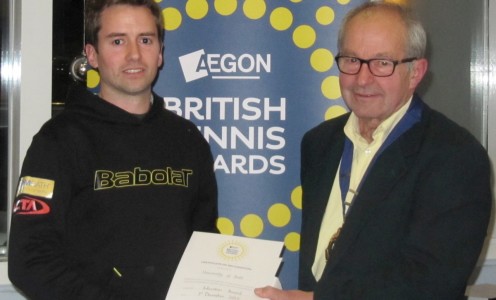 The University of Bath has been named as Education Venue of the Year by the Avon Lawn Tennis Association (LTA).
The award recognises the outstanding work by Team Bath Tennis coaches in enhancing the student experience at the University and taking the sport into primary and secondary schools throughout the region.
Head of Club Coaching Matt Smith, who received the award on behalf of the University, said the two-tier coaching programme had engaged around 200 students and more than 1,400 schoolchildren during the past year.
"There has been a lot of hard work by the whole coaching team over a number of years to enthuse people about tennis and get people engaged in it," he added.
"The University of Bath excels in many areas of student life, so for us to get this kind of acknowledgement of the role we are actively playing in enhancing the student experience is a great honour.
"The award also recognises our work in local schools and the programme is being used by the LTA as a National Best Practice case project."
Alex Walker, a Business Masters graduate and World University Games mixed doubles silver-medallist, has been the University Tennis Coordinator for the past year.
She has helped to oversee a programme for students which includes coaching clinics, internal leagues, cardio tennis, touch tennis and social events.
The University of Bath Tennis Club has also thrived during recent years, with the women's team winning a fourth successive British Universities & Colleges Sports [BUCS] title during 2015.
Tom Ellis is Outreach Coordinator at the University and oversees the schools programme. More than 20 schools have been visited by Team Bath coaches during the past year, with 100 of the pupils engaged going on to attend a fun day at the Sports Training Village.
Ellis also delivers teacher education packages, while Team Bath run the tennis section of the Bath & North East Somerset (BANES) School Games.
Team Bath Tennis, which was also a Community Club of the Year finalist in the 2015 Bath Chronicle Sports Awards, now goes forward to the South West LTA regional finals in the Education Venue of the Year category.
For more information about tennis at the University of Bath, visit http://www.teambath.com/sport/tennis/