Tennis
A dynamic centre for tennis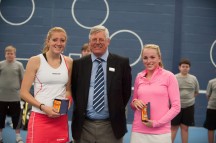 Team Bath has a busy and varied tennis programme and is an LTA International High Performance Centre status marking us out as one of the top four in the UK.
We have a performance focus through Team Bath MCTA academy.
There is also a thriving club coaching programme for all ages and abilities, including options for individual lessons and a university tennis club.
Barry Scollo Director of Tennis
Monthly Blog
Most juniors are back and working hard on their physical preparation before the summer.
Seniors have been contesting the domestic clay court circuit in Bournemouth, Edinburgh and Newcastle respectively.
Read all the latest tennis news and happenings at Team Bath MCTA from our Director of Tennis' monthly blog.
Barry Scollo monthly blog May 2013
Book a court
Play tennis at the Sports Training Village.
Call reception on 01225 386339 to book a tennis court.
A great tournament venue
Our world class facilities are host to many county, regional, national and international competitions. If you are interested in finding out more about entering and what we have to offer please email tennis@teambath.com
Tennis contacts
Director of Tennis > Barry Scollo,
Tennis Academy & Operations > Peter Martin,
studenttennis@lists.bath.ac.uk
Free subscription to Tennis World Magazine
Our Team Bath customers are very lucky to receive free lifetime subscription to the online magazine Tennis World.
Click the image and simply register a username and password to log in and read the magazine and historic issues.