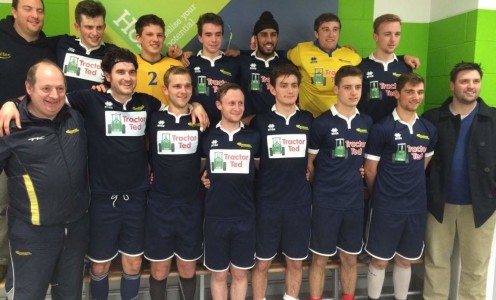 Team Bath Buccaneers' Super 6s team sealed back-to-back promotions on Sunday (January 17) after crucial wins over Doncaster and Surbiton.
Led by former indoor goalkeeper and current outdoor assistant Jon Williams, the Buccaneers finished the season with a record of six wins and two draws from eight games.
The Buccaneers' top-two finish sealed an impressive campaign towards the top flight of indoor hockey in the country.
The road to the premier league started with victories over Southgate and Sheffield and draws with rivals Cannock and Brooklands Manchester on January 9 and 10. The Buccaneers went into the second weekend placed in the top four, needing four wins from four remaining matches to gain promotion.
In a whirlwind first game of the weekend Buccs beat West Hearts 8-6 and then put away Old Loughts (6-2) in a mature display. With two down and two to go, the Buccs had all to play for on the last day of the National Div 1 competition. Nothing less than wins against Doncaster and Surbiton would mean direct promotion to the Premier League.
Low flyers Doncaster made life tough for the young Buccaneers first thing on Sunday, going 3-1 ahead with five minutes to go. But Bath showed great strength and character to overturn the game and win 4-3. With the "get out of jail free" card played, only one more victory was needed against outdoor Premier League side Surbiton.
This final game of the weekend saw two very strong teams play some quality hockey. It was Bath who converted their chances and led 3-0 at half time. Surbiton pulled a couple back in the second half but Bath held on to win 4-2 and therefore gain promotion to the highest indoor hockey league.
Team photo (from left to right):
Back row: Stu Adams (manager), Josh Mardell, Ellis Sharp, Peter Scott, Navraj Degun, Stephen West, Kyle Gladwin.
Front row: Jon Williams (coach), Andrew Eversden, Sam Hatherley, Ben Mackey, Ben Stone, Toby Vaughan, Adam Croutear,  Tom Skinner (ass coach/manager)