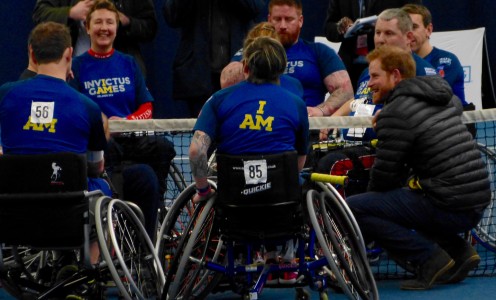 Prince Harry today dropped in on the University of Bath's Sports Training Village to watch and support athletes seeking selection to the 100-strong UK team for the 2016 Invictus Games.
The Invictus Games Foundation Patron met with serving and veteran servicemen and women who are using sport as part of their recovery.
Staff at the Sports Training Village already have expertise in hosting multi-sport and single-sport disabled sports events with the University having been ParalympicsGB's training base in the lead up to London 2012.
Prince Harry was greeted on arrival by Steve Egan, the University's Vice-President (Implementation) as well as Invictus staff.
Stephen Baddeley, the University's Director of Sport, said: "We are delighted to be hosting such an inspirational event and Prince Harry's visit today added a frisson of excitement for all involved.
"We are proud that the Sports Training Village has the kind of unique capabilities, along with a group of skilled staff, that are needed to host these type of multi-sport events".
The Prince went straight to the athletics track to watch the competition before moving into the East Building to talk to athletes and meet media from the UK and overseas who were following his visit.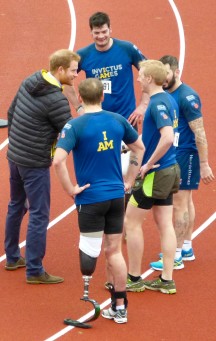 Before leaving the University, he took time to watch wheelchair tennis players warming up for their competition and talked with them on court.
In Bath, familiar faces from the 2014 Invictus Games were joined by many new sign-ups who have all been spurred on by the inaugural games in 2014 and the day-to-day sports recovery activity that takes place. The Invictus Games set out to harness the power of sport to inspire recovery, support rehabilitation and generate a wider understanding and respect for our wounded, injured and sick servicemen and women.
The UK team, which is sponsored by Jaguar Land Rover, will be selected based on the benefit the Invictus Games will give an individual as part of their recovery, combined with performance and commitment to training.
Hopefuls have the opportunity to take part in ten sports at the trials in the next three days: Athletics; Archery; Wheelchair Basketball; Road Cycling; Powerlifting; Indoor Rowing; Wheelchair Rugby; Swimming, Sitting Volleyball, and Wheelchair Tennis.
Tickets for the Invictus Games Orlando 2016 will go on sale in February. However, from today fans can reserve their tickets by visiting this link: http://invictusgames2016.org/tickets/
For further information contact: Caroline Searle in the Team Bath press office on: 01225 383518 or 07831 755351 or press@matchtight.co.uk