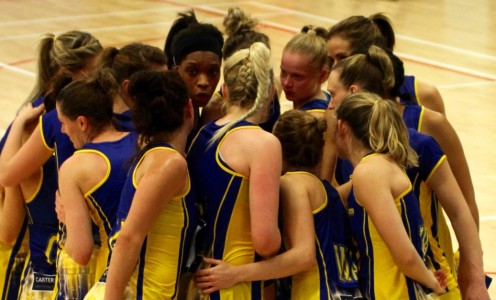 In a scintillating final 15 minutes of netball's Super Saturday, Team Bath turned a 10 goal deficit into a three goal 47-44 Vitality Superleague win over Surrey Storm.
In one of sport's more remarkable comebacks, the Team Bath squad responded to coach Anna Stembridge's instructions to simply "get the basics right".
A packed and vocal crowd in Birmingham's Genting Arena roared the Team Bath players to victory, sensing they might pull off the turn-round when the score moved from 30-38 to 37-38 in a matter of minutes.
Team Bath normally play their home matches at the University of Bath Sports Training Village but tonight's fixture was played as the live, televised finale to netball's Super Saturday to mark the opening of the 2016 season.
Unlike the second and third quarter, when Team Bath were unable to convert defensive turn-over into goals at the other end, the whole squad responded to some fabulous intercepts from Karla Mostert and Eboni Beckford Chambers.
"The girls had such great spirit and were fighting back goal by goal", said South African Mostert who was named player of the match.
"To be honest, we have had a game plan from the very beginning of the season and in the second half today we just stuck to it. Earlier there were too many unforced errors".
In the opening quarter Team Bath had raced away to a 7-3 lead in the first five minutes but were pegged back by Surrey at 7-7 who went on to lead 10-7 and then 14-11 at the quarter-time.
"We need to learn to respond quicker when teams come back at us. That's one thing we will take away from this match", said Jess Thirlby, the Team Bath Director of Netball.
Errors feeding into attack, with Surrey's Katy Hollland and Hannah Reid playing well in defence, meant that Stembridge swapped her mid-court several times and then brought Chelsea Lewis on at goal-shooter in the second half.
"Karla started it off for us", said Stembrige of the moment when the pendulum began to swing back in Team Bath's favour after trailing 17-26 at half-time and 30-38 at three-quarter time. "She was awesome as was Eboni (Beckford Chambers). With a quality shooting duo like Surrey's Rachel (Dunn) and Pamela (Cookey) we knew we would have to try and wear them down in defence and then make the best of anything we got".
Jo Vann (formerly Binns), Mia Ritchie and Claire Brownie all worked tirelessly in the mid-court and began to fire in the final quarter to feed the ever-reliable Asha Francis at goal-attack and Lewis.
Team Bath next take on Yorkshire Jets away on Monday night (1 February) but have their first home match at the University of Bath Sports Training Village on Friday 12 February.
Carter Jonas are Team Bath Netball's property partner, Surridge are the Team Bath kit supplier and Skins provide the team with compression wear.
Tickets for the remaining 2016 matches are available now. For a full list of fixtures and for ticket information please go to http://www.teambath.com/sport/netball/fixtures-results/
You can find out more about Team Bath on our website teambath.com
You can also follow Team Bath on Twitter at twitter.com/teambath or facebook.com/teambath
You can follow Team Bath netball at twitter.com/TeamBathNetball
Team Bath
Starting Seven
GS: Lenize Potgeiter; GA: Asha Francis; WA: Rachel Shaw, C: Mia Ritchie; WD: Claire Brownie, GD: Karla Mostert, GK: Eboni Beckford Chambers
Bench: Chelsea Lewis, Amanda Varey, Joanna Vann, Alana John, Sarah Penny.
Changes:   Quarter 2: Ritchie to WD, Vann from bench to centre, Brownie from WD – bench. Quarter 3: Shaw to bench, Ritchie to wing-attack, Brownie from bench to WD, Lewis from bench to goal-shooter, Potgeiter to bench. Quarter 4: no changes.
Quarter scores and shooting stats to follow
The 2016 Team Bath squad is:
 Lenize Potgieter, Chelsea Lewis, Shaunagh Craig, Asha Francis, Amanda Varey, Rachel Shaw, Joanna Vann, Jazz Scott, Mia Ritchie, Claire Brownie, Karla Mostert, Alana John, Eboni Beckford-Chambers, Sarah Penny, Sam Cook.
Surrey Storm
Starting Seven
GS Rachel Dunn, GA Pamela Cookey, Georgia Lees, Candappa Flanagan, Holland, Reid
 Full Surrey 2016 squad.
 Elsa Wakeman, Rachel Dunn, Katherine Hayes, Rhea Dixon, Pam Cookey, Georgia Lees, Mikaela Austin, Sophia Candappa, Yasmin Parsons, Amy Flanagan, Kathryn Ainsworth, Katy Holland, Francesca Williams, Hannah Reid, Josie Huckle.
Earlier SuperSaturday results:
Celtic Dragons 39 – 60 Hertfordshire Mavericks
Yorkshire Jets 34 – 65 Lougborough Lightning
Manchester Thunder 59 – 37 Team Northumbria
For further information please contact the Team Bath press office at Matchtight Ltd on 01225 383518 by email at press@matchtight.co.uk